What Is a Passenger Hoist?
A passenger hoist is a lifting system often used at construction sites to lift personnel and materials to upper levels of unfinished buildings. The passenger hoist itself consists of a cage or car in which people will stand during transport, and a track that is mounted to the building. The car or cage will travel along this track by means of a rack and pinion drive system, and the car can be stopped at various locations along the track. This allows people to load or unload at any floor along the length of the track.
The track itself is usually made of steel and is constructed of several lengths attached together. This provides stability, and it makes the construction process of the passenger hoist much quicker and easier. These structures are usually temporary, so smaller track sections will make deconstruction and transportation of the pieces much more manageable as well. The height of the passenger hoist will vary according to how many sections of track are secured to the building. In most cases, the track pieces come in 25 foot (7.62 meter) sections, so the height of the finished track will generally be a multiple of 25.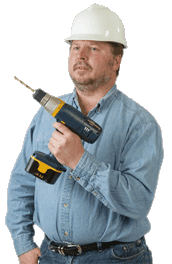 Once the track is in place, a car or cage can be secured to it. This will be the primary supporting structure of the goods or people being transported, and it is usually an open-air structure that is surrounded on all sides by a wall or gate. In some cases, the cage may be enclosed to prevent injury from falling debris or other items. The cage is driven along the passenger hoist system by a motor that powers a rack and pinion system; this means two or more gears will work in conjunction with each other to lift or lower the cage. The specific design of the system will vary according to the size and application of the passenger hoist.
Very often the entire system is mounted to the outside of a building, though in some cases it is possible to mount the system within the structure of the building. This is a much more difficult process, however, as the lengths of track usually need to be placed by a large crane. Sometimes the passenger hoist is an independent unit that does not need to be secured to a building; this type of lift often features a platform at its top that allows passengers to walk from the hoist system to the structure being constructed.
AS FEATURED ON:
AS FEATURED ON:







Man with a drill