What Is a Mobile Conveyor?
A mobile conveyor is a type of material handling equipment that can be moved from one location to another, as opposed to being permanently installed. One category of mobile conveyors is used primarily in mining and quarrying contexts, and the other type is more commonly used to move much smaller loads in warehouses and on outdoor job sites. Some mobile conveyors that are used in mines and quarry operations are very large, and rest on trusses that can be assembled where they are needed. Other very large mobile conveyors are meant to follow mobile crushing plants and other machinery around a quarry. Smaller mobile conveyor units are designed to be set up temporarily in warehouses or on job sites, and are sometimes collapsible or set on dolly trailers.
There are two primary classes of mobile conveyors that can be differentiated based on the industries where they are found. The largest units are found in quarries and mines, and are designed with movement in mind despite being very large. This type of mobile conveyor is sometimes built on a truss that can be assembled wherever the job requires, and in some cases various types of heavy equipment can also be mounted on the truss. A mobile stacking conveyor is one variety that rests on crawler tracks installed on a heavy truss so that it can move back and forth as needed.
Another type of mobile conveyor found in quarries is designed to follow mobile crushing plants and other similar machinery. These conveyors are often built in segments, so that materials from a crushing plant or excavator can be moved across the quarry for additional processing. The other purpose behind this type of mobile conveyor is that it can be moved to a safe location during blasting.
Many other mobile conveyors are much smaller and designed for use in locations such as outdoor job sites, warehouses, and even delivery vehicles. These conveyors can use flat belts, buckets, cleats, and various other components depending on the types of materials that need to be handled. Some of these mobile conveyors use cleats in order to lift objects up a steep incline, while buckets are useful for moving dirt and other loose materials. These conveyors are often powered by electric motors, though gas and diesel motors are often available as well for outdoor jobs that are far from electricity.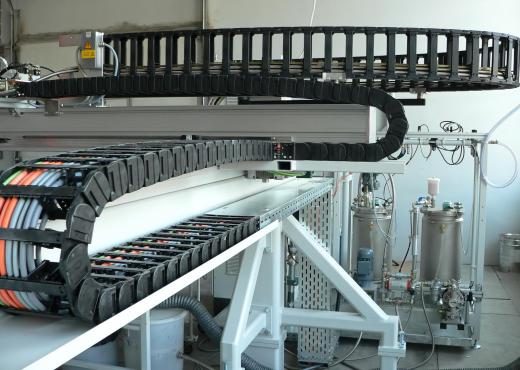 In addition to the various types of mobile belt conveyors, other designs also exist for handling a variety of materials. A mobile vacuum conveyor is a device that is intended primarily to move powders and liquids short distances. This type of mobile conveyor is often built on some type of rolling frame, and is usually capable of transporting materials both vertically and horizontally. Unpowered roller conveyors are sometimes mobile as well, and are often collapsible for easy transport. Some collapsible mobile roller conveyors can be particularly useful when delivering goods to loading docks.
AS FEATURED ON:
AS FEATURED ON:







By: Yuri Kravchenko

The largest mobile conveyors are used in quarries and mines.

By: Deyan Georgiev

Mobile conveyor systems are often used to move rocks and stones at quarries.

By: Dreef

The apron conveyor is a type of conveyor system that is often used in manufacturing, and can be ideal for moving objects such as rocks.