What is a Mechanical Superintendent?
A mechanical superintendent coordinates and oversees construction, maintenance, and repair activities at a facility that houses large mechanical equipment. He or she ensures that gas lines, plumbing fixtures, boilers, and other elements are kept in proper working order at all times. The job requires expert knowledge of the detailed physical properties of mechanical systems, and many superintendents possess several years of experience in the construction and maintenance field.
Mechanical superintendents work full-time at industrial factories, manufacturing plants, and large facilities such as office buildings and hospitals. They direct crews of maintenance workers in their daily activities, such as cleaning and testing machinery. A superintendent often personally inspects equipment, such as heating, ventilation, and air conditioning (HVAC) systems, and schedules maintenance and repair tasks as needed. If a worker encounters a large problem, he or she will inform the superintendent and receive instructions on how to remedy it.
In order to perform the job well, is important for a mechanical superintendent to have both a practical understanding of maintenance work and solid communication, organization, and leadership skills. In particular, he or she needs to be thoroughly familiar with how different systems operate. The superintendent studies equipment blueprints and schematics to understand the inner workings of engines, gear boxes, and water and gas lines. A knowledgeable mechanical superintendent can effectively explain systems to workers and teach them how to perform complex tasks.
The job title of mechanical superintendent is sometimes delegated to a lead supervisor at a construction site. In this sense, the mechanical superintendent works with foremen to ensure heat, gas, and water lines and fixtures are installed properly according to blueprints. He or she may set worker schedules and project deadlines to ensure jobs are completed in the most efficient manner possible. The superintendent also typically inspects ongoing progress at the job site, ensures that buildings meet federal safety codes, and composes formal final reports for the property owner.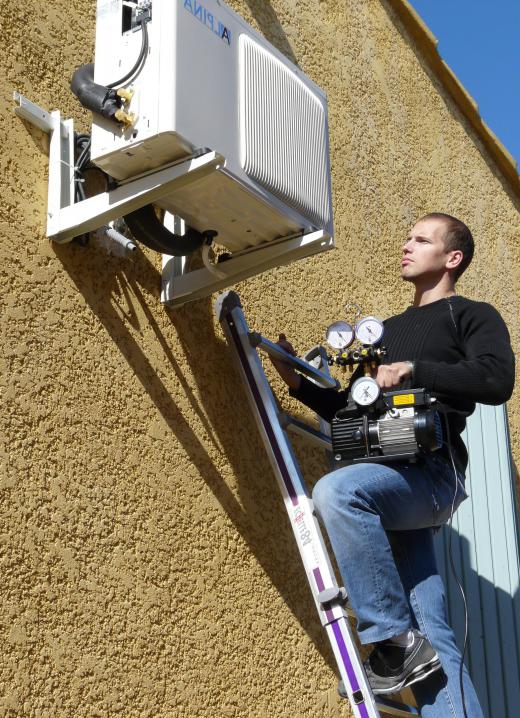 A person who wants to become a mechanical superintendent usually needs a combination of formal education and practical experience in related jobs. Many professionals hold associate's degrees or vocational school certificates in a mechanical discipline, such as plumbing or HVAC maintenance. They typically work as apprentices for about five years in their specialty to gain on-the-job training and experience before becoming independent journey workers. In time, a worker who excels at his or her job and demonstrates strong leadership skills may have the opportunity to move into a supervisory position.
AS FEATURED ON:
AS FEATURED ON:







By: AndG

A mechanical superintendent may inspect and schedule repairs for an air conditioning system.

By: Africa Studio

Mechanical superintendents ensure appliances within rental units function properly.

By: Cyril Comtat

Maintenance superintendents may ensure that a building's air conditioners are properly functioning.