A logging winch is a device usually mounted to the rear of a tractor that is used to haul large logs or pieces of wood out of the wilderness. This cable system is useful for exceptionally heavy jobs or for repeated use, and it eliminates the need for more expensive grappling systems. Like other types of winches, the logging winch uses a cable that is wrapped numerous times around a pulley wheel; when the wheel turns in one direction, the cable is fed out so it can be wrapped around the logs. When the wheel turns in the other direction, the cable retracts, tightening or hauling the logs.
The tractor to which the logging winch is attached must feature a power take-off system (PTO). This is the device that will power the winch pulley to pull logs and secure them in place. A rope is used to control the clutch of the system, which will allow a user to feed out cable easily or begin the activation that will retract the cable. A user can stand to the side of the logs, or he or she can operate the system while sitting in the driver's seat of the tractor. A cage is usually mounted behind the driver's seat to protect the driver in case of an accident or system failure.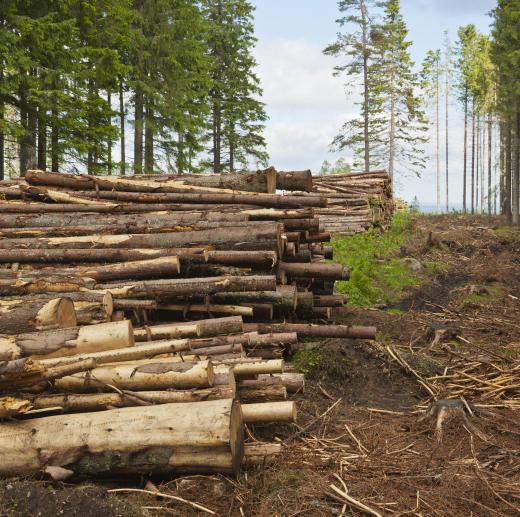 While a grappling hook system is preferred by many loggers, a logging winch is capable of moving more than one log at once, and it is also capable of moving logs over a long distance. Grapples can usually only haul one log at a time, and they are generally designed for moving logs a short distance. The cables of a logging winch can be wrapped around several logs at once, and the logs can then be pulled up against a skidder; the logs are then dragged behind the tractor to a final destination.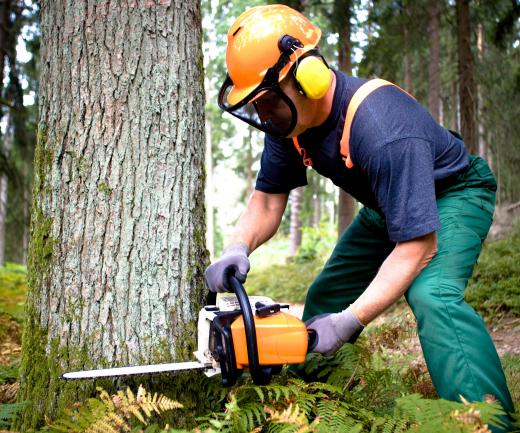 Smaller winches can be used to accomplish this task as well, though they will only be able to haul smaller logs, depending on the weight capacity and function of the winch and towing vehicle. Some ATVs, for example, may feature winch systems to which logs can be secured for dragging, but ATVs are much less powerful than most tractors and the winches mounted on such vehicles are likely to only be rated for a lower weight capacity. This system would be useful for a homeowner hauling smaller logs to be cut for firewood.
AS FEATURED ON:
AS FEATURED ON:







By: Lars Johansson

A logging winch can be used to haul logs from a forest.

By: Val Thoermer

A logger working.