What Is a Lift-Off Hinge?
A lift-off hinge is a door or furniture hinge that can be separated into two parts, allowing a room or furniture door to be removed without having to take off the hinge. These hinges are useful for businesses where regular deliveries are made through a door, and removing it will allow for more room. A lift-off hinge has a solid pin on the hinge side mounted to the door frame, and a hollow cylinder that fits over the pin attached to the door. The door is removed by simply lifting it up, which slides the cylinder off the pin and allows the door to be removed.
Furniture that needs to be moved may use a lift-off hinge, which can include storage cabinets or clothing cabinets called wardrobes. Prior to the use of built-in closets in homes by the mid-20th century, freestanding furniture was used for hanging and storing clothes. These wardrobes could be quite large, and on occasion needed to be moved from one room to another. The job was made easier by the ability to remove the doors and interior shelves and reduce the weight of the furniture.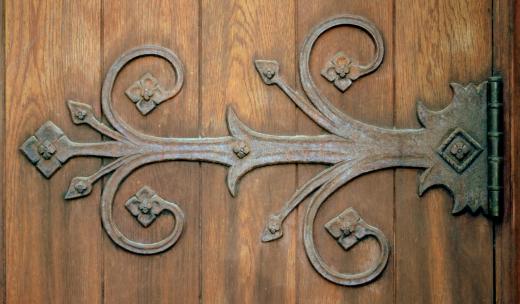 Some furniture could be disassembled by design for traveling, and was called knockdown or campaign furniture. The term "knockdown" came to define portable plastic storage bins and other flexible storage options in the 20th century. This included furniture that could be purchased as boxed individual pieces that were assembled by the homeowner. Earlier versions that used a lift-off hinge for doors evolved from portable furniture used as far back as Roman times for moving household goods. The traveler could assemble the furniture quickly when stopped for the night, and disassemble it easily the next day to resume travel.
A lift-off hinge can be useful as a maintenance item as well. Doors used in high-traffic areas may require regular maintenance or repainting, and quick removal and replacement of the door will make this easier. Homes with open floor plans, where walls are kept to a minimum to provide larger living areas, may have doors that can be added or removed as needed for privacy or security.
Security fencing is often used around the boundary or perimeter of homes or businesses, and gates are added to allow people or vehicles to enter and exit. A lift-off hinge system on the gates can provide quick removal of the gates when open access is needed. This might be required for over-sized trucks or in areas where higher winds might cause the gates to swing and damage themselves or nearby equipment or buildings if they are opened and left on the hinges.
AS FEATURED ON:
AS FEATURED ON:







By: Mr Doomits

Unlike traditional hinges, lift-off hinges allow doors to be removed by lifting upwards on them.

By: Vladimirs Poplavskis

All basic hinges are made of three parts: Two arms and one pin.