What is a Laser Plumb Bob?
A laser plumb bob is a plumb bob which is uses a laser, instead of the more traditional weighted string. Plumb bobs have been used for thousands of years in construction to show when something is straight or "plumb." These devices can be found in the toolkits of many people who work in construction, ranging from masons to general contractors. The laser plumb bob is a popular alternative to the traditional plumb bob.
With the original plumb bob, one end of the device would be attached to a fixed point of interest, and the weighted string would be allowed to hang free. After several minutes, the string would stop moving and settle into a fixed point. The end of the weight would be directly below the top of the plumb bob, with the string creating a straight line. Plumb bobs could be used for things like installing walls, hanging doors, and so forth.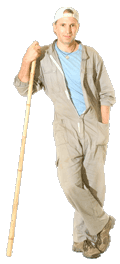 With a laser plumb bob, instead of using a weighted string, the user attaches the plumb bob to a point of interest or mounts it on a tripod, and then turns the laser on. Many laser plumb bobs can project a laser in both directions, creating a straight line with the beam of the laser and two visible points where the laser meets surfaces such as floors and ceilings. One advantage to the laser plumb bob is that it settles quickly once it is turned on; instead of having to wait several minutes, as with a traditional device, a contractor need only wait a few seconds.
Many of these devices are self leveling, to ensure that the line is truly plumb. A typical laser plumb bob comes with a case to protect the device when it is not in use so that it is not damaged by heavy impacts and other accidents, and it may include a mounting tripod which is designed to make it easier to use. The cost of this handy construction tool can vary, depending on the model, with costs generally declining as these tools become more common.
For those who are curious about what this device has to do with plumbing, the term "plumb bob" and "plumbing" both come from the same Latin root, a word meaning "lead." Historically, plumbing was made from lead, until people realized that lead pipes made them sick, and plumb bobs were historically weighted with lead, a heavy metal which did excellent duty as a weight.
AS FEATURED ON:
AS FEATURED ON:







Worker