A hot stick is a tool people can use to work around an energized power line to protect themselves from electric shock while performing service tasks. This tool can also be used for safety when a line's power status is not known. It consists of a long pole with interchangeable heads, allowing people to swap tools in and out as they need them. First responders and line crews for phone, television, and cable companies all use hot sticks in their work, and they are available through a number of companies. The typical construction is fiberglass, as fiberglass is an excellent insulator and will not conduct electricity down the length of the device.
There are sometimes situations where people need to work directly on an energized line. Using the hot stick, they can manipulate the line or settings on devices surrounding it with tools they attach to the end of the tool. Hot sticks are often telescoping, allowing people to adjust pole length to suit their needs. For close quarters work, it can help to shorten the device, while in other cases, people may extend the hot stick to reach from a distance.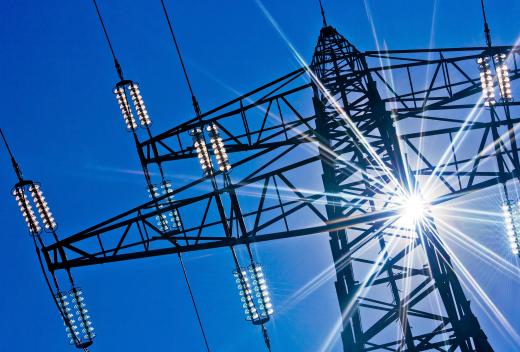 In other situations, the status of the line may not be clear. For safety reasons, people cannot rely on reports that a line is off. In a situation where people respond to emergencies like fallen trees that have taken down power poles or a car accident involving electrical lines, the system is supposed to shut off automatically and people can request a manual shut down. Technicians still need to approach with a hot stick, though, just in case. They can use the device to detect voltage and determine whether the line is truly de-energized.
People receive training in how to use the hot stick along with any attachments. There are a number of safety procedures people must follow whenever they work with utility lines because the danger can be significant. If someone accidentally restores power to a line while a crew is working on it, it could cause severe injuries or deaths. Safety measures like wearing protective gear and using hot sticks to avoid handling lines directly are sometimes legally required, and are definitely a good practice even in settings where they are not.
It is important to store hot sticks securely to avoid problems like chips and cracks. People will usually inspect their tools before starting work to check for damage, and in some cases, workers are responsible for keeping track of the condition of their own gear.
AS FEATURED ON:
AS FEATURED ON:







By: Gina Sanders

A hot stick may used by a worker performing tasks around energized power lines.