What Is a Flake Ice Machine?
A flake ice machine is an ice-making machine that produces small chips or flakes of hardened ice. Flakes of ice can be useful for activities like setting up presentations of frozen and chilled food where people will see the ice and it needs to look neat and aesthetically pleasing. Manufacturers of ice machines may offer flake ice machines in their product lineups, along with equipment that can be configured to produce several ice types, including flakes.
It is possible to purchase prepared flake ice, but for large scale or frequent applications, an ice machine may be a more efficient way to go. The flake ice machine processes water that may be filtered or otherwise treated to produce varying volumes of ice. The larger the machine, the more ice it can hold and store. Companies selecting a flake ice machine may want to consider the amount of ice they use daily to determine which size to buy.
In food service, flake ice can be useful for meat and seafood counters, as well as for buffet displays where food needs to be on ice to remain within a safe temperature range. It is also used in the production of cocktails and other specialty drinks. The uniform appearance of the ice can make it more pleasant to look at, and it also packs down well to provide even cooling while conforming to a variety of container shapes, including trays and bowls. A bed of flake ice tends to be more stable than chips or cubes.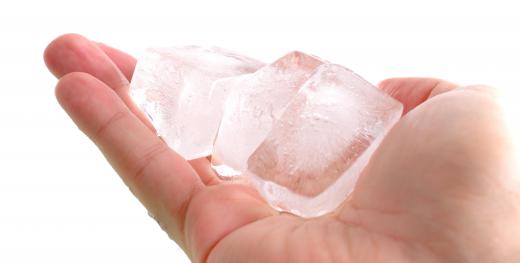 This product can also be used in health-care applications. Medical samples often need to be packed in ice for secure transit. A flake ice machine yields consistently sized ice that will be easy to pack, ensuring even and consistent cooling. Sample vials still need to be carefully secured on the bed of ice to reduce the risk of breakage and contamination.
Rental flake ice machines are available for events like weddings, where people may need a temporary supply of flake ice. Rental companies can provide a machine and may offer assistance with the hookups as well, to make sure it works properly. For companies considering the purchase of a machine, used and refurbished equipment can be an option if the retail sticker price is too high. It may also help to calculate a flake ice machine purchase versus buying ice as needed, to see how long it would take for the equipment to pay for itself.
AS FEATURED ON:
AS FEATURED ON:







By: malexeum

Flake ice may be used on buffets to maintain proper temperature of some foods.

By: Vinicius Tupinamba

Flake ice doesn't melt as quickly as cubes.