A finish coat, also called a skim coat or a white coat, is the last coat put on a surface before the surface can be painted. It is usually made out of various types of plaster and can also require the addition of sand or lime. In addition, they can be applied in a variety of ways. Before a finish coat can be applied, all prior coats must be dry. If the bottom coats are not properly dried, the finish coat could crack.
One of the most common materials used as a finish coat is plaster. For example, it can be used on drywall as a way to prepare the surface for painting. Plaster will often have to be gauged before application, meaning that it has to be mixed with putty before it is applied to the wall. To do this, the lime putty is placed on the mortar board and a space is hollowed out in the middle. Water is then poured into the space and plaster is sprinkled on the water.
After sitting for a few minutes and allowing the water to absorb the plaster, the plaster and putty are mixed together. The resulting mixture is then applied to the wall. The finish coat is applied in two layers. Normally, the first layer is applied and left to dry before the second layer is applied. At the end of the process, the final thickness is usually about an eighth of an inch (approximately 3.17 mm).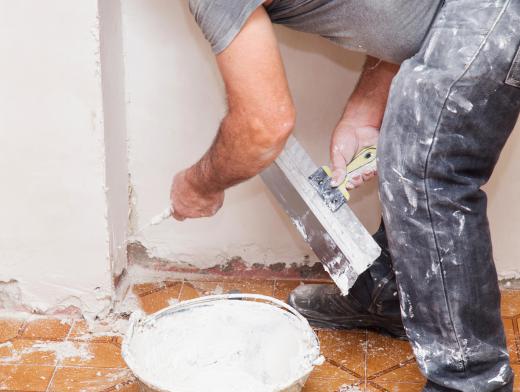 Stucco is another kind of finish coat that is often used on the exterior of a building. The material is commonly made up of one part cement, three parts sand, mixed with a little bit of lime and water. It is a durable material that allows for different textures in the finished product. Once applied and cured, this material can be painted. Unpainted, stucco is usually gray in color, but pigments can be mixed in with it.
To apply stucco, two coats must be applied to the building. The first coat, called a scratch coat, should be scratched—that is, have horizontal lines scoured across it when it is slightly dry. While the scratch coat is curing, the surface should be occasionally sprayed with water because a damp curing process produces stronger stucco. Once the scratch coat has cured, the finish coat, which is the coat that can be textured and painted, can be applied on top if it. Again, a damp curing process is best.
AS FEATURED ON:
AS FEATURED ON:







By: yellowj

A man finish coating a wall.

By: robcartorres

Plaster is one of the most common materials used as a finish coat.

By: Kristina Benter

Drywall is often treated with a finish coat if the area will be in bright light or covered with high-gloss paint.