A drill line is a wire cable that forms part of the operating system of an oil rig or derrick. These lines consist of multiple wire rope components twisted together to form a thick, strong assembly. The line may be galvanized or coated to protect it from the corrosive environment typically found around oil wells. The drill line plays an important role in allowing these rigs to drill holes or pump oil and gas from the earth, and helps to facilitate the up-and-down motion of the drill.
The end of the drill line is attached through the rig's motor. This motor generates the force required to lift and lower the drill assembly. From the motor, this line travels up to the very top of the derrick. It wraps around a set of pulleys, which are positioned on the crown block along the top of the rig. The drill line then extends down into the traveling block, which contains a second set of pulleys. Together, these two pulley units make up the block and tackle of the rig.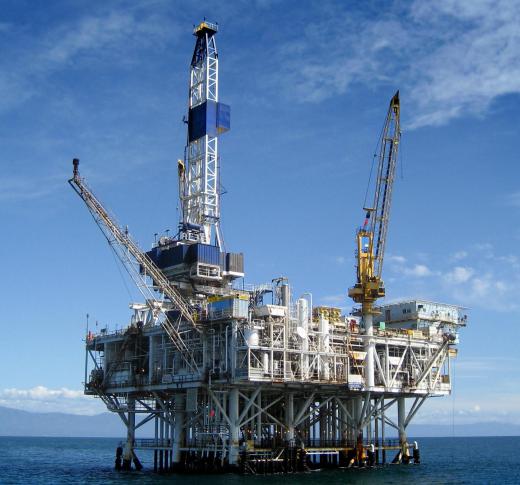 By running the drill line through multiple sets of pulleys, oil workers are able to exert additional force on the drill bit. The line and pulleys multiply the power generated by the motor to allow the drilling mechanism to drill much deeper, and through much tougher materials. This allows the derrick to produce the forces necessary to cut through rock deep underground. Some rigs may include a second set of stationary pulleys above the crown block to enhance drilling power even more.
The drill line should not be confused with the drill string, which is a separate, but equally important, mechanism on the average derrick. Drill strings consist of a hollow pipe or conduit with a cutting bit attached to one end. The rig pumps drilling fluid through the center of the string to facilitate the cutting process. The drill line generally supports the drill string and helps to lift and lower it into the earth.
Drill lines can vary in length and diameter depending on the needs of each drilling project. Oil workers often add lengths of wire rope to the line to allow the drill to penetrate deeper and deeper below the soil as the project continues. Surprisingly thin cables can be capable of withstanding extreme drilling conditions, tough rock, and great depths. Generally, thicker cables or those made from stronger materials may be required for the most advanced drilling operations.
AS FEATURED ON:
AS FEATURED ON:







By: eyeidea

An offshore oil platform. A drill line is an important part of oil well drilling.

By: lightmoon

An oil drilling rig. The drill line connects the yellow traveling block to the top of the derrick.