A draw plate is a plate used for thinning wire, which is also called drawing wire. Usually metal and often rectangular, this tool is used to thin wire into specific thicknesses, called gauges. Some methods of wire drawing can strengthen metal wire. Though they are used by some manufacturers, draw plates are usually used by artists who make handmade jewelry. When using a draw plate, a jeweler inserts a wire into a hole that presses the wire into the desired new gauge.
Wires can be drawn one at a time, or in clusters of smaller wire. Plates for wire drawing may have one size hole or several holes for drawing multiple sizes. Drawing is usually used to thin metal wire, but the technique has also been used to shape wood dowels as well as threads of glass for fiber optics. The material used in a draw plate can be different to suit the type of metal drawn. The hardest metals to draw require stronger materials such as tungsten carbide and diamond.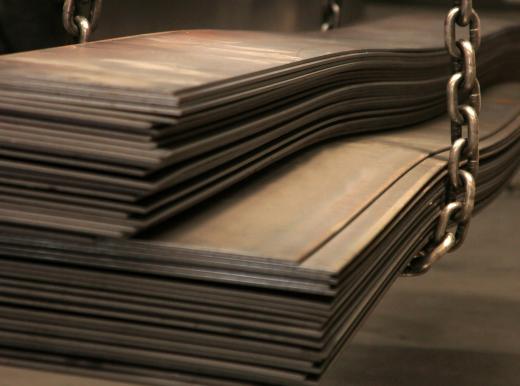 When a jeweler aims to hand-draw wire, a the plate is not the only necessary tool. This process also requires a vice, some metal drawing lubricant or draw plate lubricant, metal files, and gripping pliers in addition to the perforated plate. The vice is used to hold the draw plate in place for the procedure. The lubricant is to help the wire through the holes, and the files are used to taper the wire so it fits into the holes. The gripping pliers are used to grip the wire, holding it firmly as it is pulled through one of the holes in the draw plate.
Drawing wire can be a money-saver for some, but for others, sizing wire by hand may turn out to be more trouble than the money savings are worth. Buying wire can be cheap, making the labor of wire drawing an inconvenient choice. For whose who use a great deal of wire, a draw plate can save money by allowing the user to resize excess wire that is too large. The flat plate can also be used to straighten wire that has become bent.
Another tool called a draw plate is also used in stamping or punching sheet metal. In stamping, it is the plate that holds the stamp used to form the sheet metal. The tool is used to shape the metal into forms or blank sheets, a process usually performed by a hydraulic press.
AS FEATURED ON:
AS FEATURED ON:







By: Kybele

A draw plate might refer to a tool used to stamp or punch sheet metal.

By: Monkey Business

Draw plates are usually used by artists who make handmade jewelry.