A coil nail gun is not a specific type of nail gun, because the coil referred to is not part of the nail gun itself, but the cartridge. Nail guns have a cartridge unit that holds the nails for use. Coils contain from 300 to 400 nails, and the nails are kept together by wire. The nails inside can be any shape, the nail gun can be pneumatic or gas, and these nails guns can be regular or specialized. The other type of cartridge is the stick cartridge, which only holds about 20 to 40 nails.
Every power nail gun has a cartridge unit. Without the cartridge unit to hold the nails, the worker would have to place the nails in the nail gun one at a time. A coil nail gun uses a coil that is able to hold several hundred — commonly around 300 to 400 — nails at once. The nails are wrapped in a coil and are bound together in the cartridge by wire.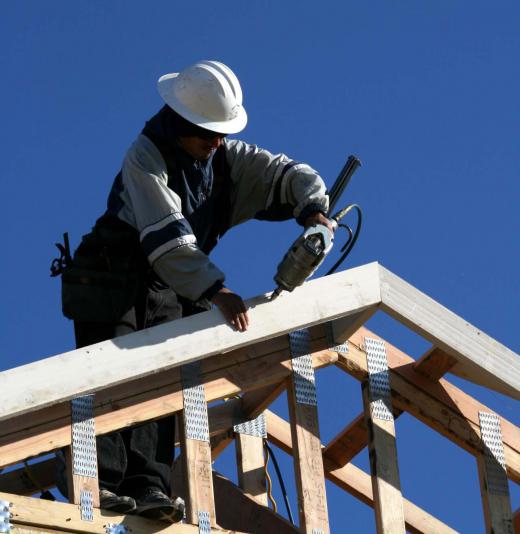 The opposite type of cartridge is the stick cartridge. Unlike the coil nail gun, this has a lowered capacity of about 20 to 40 nails. The nails are bound by wire, but the nails are in a stick shape instead of a coil, which reduced the efficiency of the space used. Like coil cartridges, stick cartridges can be used for any type of nail gun and include a variety of nail sizes.
Coil nail guns are not limited to one type of nail gun. The two types of powered nail guns, pneumatic and gas, are both able to fit a coil cartridge. Pneumatic nail guns are powered with air by means of an air compressor and air hose. Gas nail guns have a small gas cartridge and, through combustion energy, are able to shoot nails into any surface. The coil nail gun can be found with regular nail guns or specialized units made for roofing, boxing or finishing.
Along with nail gun type, the nail's shape and size are not restricted in a coil cartridge. It is common to find both long and short nail coils. Special nail shapes, which are usually used in specialized nail guns, are also common.
Between coil nail gun and stick nail gun cartridges, there is only one distinct difference: capacity. Coils hold about 10 times more nails than sticks. Stick cartridges are sometimes cheaper overall, but the price difference is usually negligible compared to the convenience of having all the extra nails the coil holds. Aside from the convenience, both cartridges use nails just as efficiently.
AS FEATURED ON:
AS FEATURED ON:







By: Greg Pickens

Coils contain from 300 to 400 nails, and the nails are kept together by wire.