What Is a Coal Conveyor Belt?
A coal conveyor belt is a piece of industrial equipment typically used to move loads of raw or processed coal through a facility. Facilities can vary in layout and configuration and it is usually necessary to install a custom conveyor system to meet specific needs of a location. Companies that specialize in coal conveyor belts often work with other industrial equipment and components, like bucket delivery systems. They can also install safety systems to protect workers and equipment from common hazards they may encounter along the conveyor line.
Conveyors consist of a set of pulleys that control a belt made from rubber, chain, and other materials. In a coal mine, workers can dump loads onto a conveyor for movement out of the facility and delivery to trucks or a processing area. The coal conveyor belt carries raw coal and other components continuously, and may be quicker and more efficient than trucking the coal out in carts.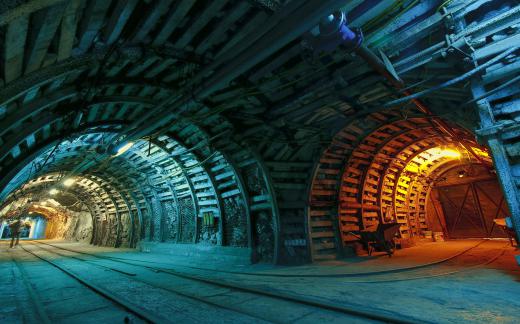 Facilities that burn coal, such as power plants, also use coal conveyor belt technology. In this case, workers load finished and processed coal that is ready for use onto a belt. The belt draws it into the boiler, operating at a steady rate to keep the supply of fresh feedstock consistent. Boilers can require high volumes of coal to maintain satisfactory energy production levels. The coal conveyor belt meets this need and reduces the risk of worker injury by keeping workers out of high traffic and potentially dangerous areas.
Workers can adjust the level of incline on a coal conveyor belt, as well as the speed, to control the amount of coal delivered. Full stoppage of a working conveyor is typically rare, as such systems are often designed to operate around the clock with shifts of workers who move in and out of a facility to maintain a steady supply of coal. Some conveyors are mobile, allowing workers to relocate them as the needs of a facility change, as when one seam of coal is exhausted and miners need to move to a new location to take advantage of extant deposits.
One potential concern with a coal conveyor belt is the risk of fire. Coal is flammable, and deposits of coal dust can pose a safety risk. Companies can use heat detectors as well as other devices to check for signs of fire or conditions that might lead to fire if not addressed. Fire detection equipment can be linked with a suppression system to stop fires before they have an opportunity to spread down a production line, endangering equipment and workers.
AS FEATURED ON:
AS FEATURED ON:







By: Aniuszka

Large tunnels in a coal mine.

By: adam88xx

Raw and unprocessed coal is often move through conveyor belts.