What Are Welding Goggles?
Welding goggles are protective safety glasses designed to shield the eyes from particles and radiation, and to provide clear visibility while welding. They must be made from a durable, impact-resistant material, such as shatterproof glass, and they must filter the harmful ultra-violet and infra-red radiations from the welding torch that can cause blindness. Goggles are usually manufactured with a wrap-around design to provide maximum protection from sparks and can also include a bi-focal or magnified lens and an anti-fog coating to improve visibility. Most goggles used for welding sold in the United States conform to standards set by the American National Standards Institute (ANSI).
To enhance comfort and wearability, welding goggles are usually manufactured with a flexible frame and an elastic band. These features allow them to conform to any size head and fit tightly, even if the user is wearing eyeglasses. The design includes venting holes to prevent fogging, and, even though the lenses are scratch- and impact-resistant, they are often replaceable. The filters vary according to they type of welding being done, and goggles used for one type of welding are not necessarily suitable for another.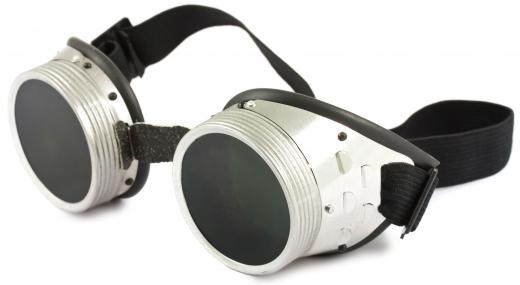 A welding mask includes a set of goggles in its design and provides full-face protection from the hazards of oxy-fuel welding and cutting. A welding helmet, on the other hand, usually has a window covered with a filter, and welding goggles with this design also exist. The window may be made of tinted glass or plastic in older designs, but more modern ones are light-sensitive and automatically darken when needed. This feature encourages the welder to keep them in place and avoid flash burns by forgetting to set the mask or goggles before lighting the torch.
Welders performing light-duty welding and cutting procedures may benefit from a variety of welding glasses available. More akin to safety glasses than welding goggles, they feature a wrap-around design and tinted lenses that may include magnification. They are easily removable to allow the welder to engage in a variety of tasks, but do not provide the protection of a mask or goggles. The flame from a welding torch is dangerous, not just for the high high heat it produces, but also for the wide spectrum of dangerous radiation it emits. Without the protection of appropriate eyewear, such as that provided by welding goggles or a welding mask, welders may sustain temporary or permanent damage to the corneas of their eyes.
AS FEATURED ON:
AS FEATURED ON:







By: mbongo

Welding goggles.

By: taaee

Welding creates sparks and radiation that can damage the eyes.

By: Dmytro Sukharevskyy

A welding mask protects a welder's eyes and face.

By: chirnoagarazvan

The filters necessary for one type of welding are not necessarily suitable for protection during other work.