What are the Different Types of Forestry Equipment?
Forestry equipment is any piece of machinery that helps in the excavating, harvesting, and finishing of a wooded area. These three stages require vastly different types of forestry equipment tools, but all work together to ensure the job is done well. Excavating machines include the saws used to bring down a tree. Harvesting equipment includes a series of bunchers, loaders, and harvesters. Finishing machines are anything that helps clear the forest in order to either replant trees or begin construction, like a bulldozer.
When a large amount of forest needs to be cleared, using excavation equipment is the first step. This type of forestry equipment consists mainly of various chainsaws. The most distinct features of these logging tools are the extended length and the large motor powering the saws. These two elements allow forestry specialists to quickly and safely cut through large trees.
In addition to cutting trees with chainsaws, there are two attachments used on forestry equipment to cut trees faster and easier. These fit on the end of any equipment featuring a boom arm, such as a buncher. These attachments, a disk saw felling head and a waratah, have powerful saw blades that can be controlled by the logger piloting the buncher. They reduce the time spent cutting trees and also provide a higher level of safety in that a logger is not directly next to a tree when cutting.
Once a tree has been taken down, it is the job of harvesting forestry equipment to get it off the ground and taken away. Feller bunchers and harvesters are two common machines that clear logs from a forest. These have boom arms and large clamps that can lift and secure anywhere from one to several logs and transport them. Some of these pieces of equipment are stationary, but most have wheels or tank treads to help overcome any natural obstacles. Once the logs are collected, they are secured to log trucks, which are long semi-trucks outfitted with beds that can secure these massive loads.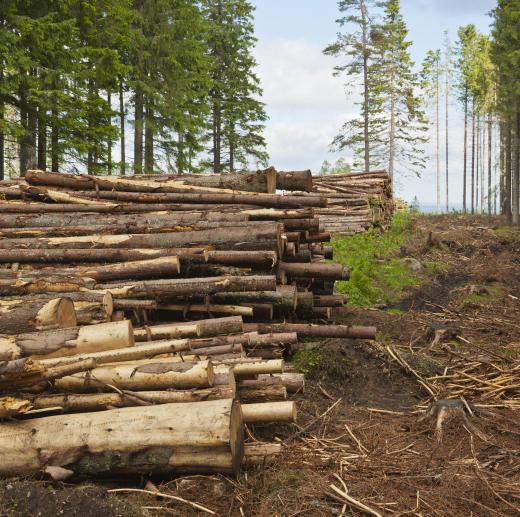 After a forest area has been cleared of logs, there are stumps left behind, usually firmly rooted into the ground. Finishing forestry equipment helps logging professionals deal with this problem. A bulldozer is the most common type of machine used for this job. By using its large metal blade to turn over the soil, a bulldozer rips up stumps so they can be removed and the land is ready for reforesting or construction.
AS FEATURED ON:
AS FEATURED ON:







By: Penny Higgins

A man using an axe to chop wood.

By: Kacpura

Felled trees.

By: Lars Johansson

An area of boreal forest that has been logged.

By: mihashenk

Bulldozers may clear a forest in order to begin road construction.