What Are the Different Types of Factory Workers?
The largest population of factory workers are general laborers, sometimes known as assemblers. These workers may have little formal education, and the job functions they will undertake are fairly simple and straightforward, if sometimes boring. They may be responsible for assembling goods produced by the factory, or otherwise participating in the production of product. These types of factory workers generally earn less than other positions at the factory, and such jobs may be considered entry-level. These positions are very likely to be hourly positions rather than salary positions.
Handlers are the factory workers who take finished product and pack them for shipping. This may include simply boxing items, or it may involve boxing them, stacking the boxes on pallets, securing the pallets, moving the pallets with a forklift, packing containers and trucks, and so on. Handlers are sometimes considered general laborers, though in some factories, a handler position is a step up from a general labor or assembler position. The wages may be slightly better, though again, only a limited amount of education is necessary to obtain such a position. A high school diploma or equivalent is usually preferred but not always necessary.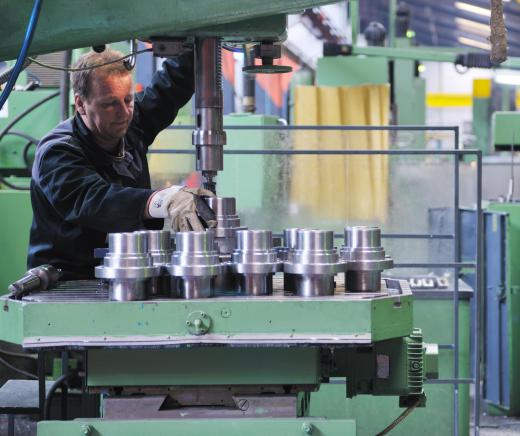 Machinists are factory workers who create metal, plastic, or even wooden parts using high-tech machines. The machinist is trained to operate specific machines, and he or she may be qualified to operate several machines on any given day. These workers earn higher wages than handlers and assemblers, and usually a high school education is required. Job training will be necessary to obtain such a position, and people working in general laborer or handler positions can often work toward obtaining a machinist job over time.
Maintenance staff include factory workers who are trained to repair the machines operating within the factory. Damage and wear are likely to occur over time, and the mechanics must know how to repair the damaged machinery quickly, safely, and correctly. Such a position often requires specific mechanical training or some level of schooling. Some maintenance staff, such as janitorial factory workers, are responsible for cleaning and maintaining the grounds of the factory, both inside and out of the building. These laborers are usually unskilled, and therefore do not get paid as high a wage as other maintenance staff. They may get paid a similar wage to a general laborer, since this is an unskilled position that does not require any certain level of education.
AS FEATURED ON:
AS FEATURED ON:







By: .shock

A factory worker might be tasked with one aspect of production throughout the day.

By: Monkey Business

Some factory positions, such as CNC operation, require skilled workers.

By: bugphai

Factory workers may use forklifts to stack and move objects.

By: roman023

Welders make up more than 10 percent of the manufacturing workforce in the U.S, according to the American Welding Society.

By: Lisa F. Young

Some factory workers may have very little formal education.

By: Kadmy

Equipment maintenance and calibration are key components in ensuring factories can operate properly.