What are the Different Types of Contract Manufacturing Services?
Contract manufacturing services refer to the outsourcing of some or all of a company's actual manufacturing process to a subcontractor. The different types of contract manufacturing services include electronic manufacturers services, pharmaceutical manufacturing services, medical contract manufacturing, and contract manufacturing agencies. Companies interested in outsourcing some of their activities can either contact the subcontractor directly or go through an agency.
Electronic manufacturing services are commonly outsourced by the original equipment manufacturer (OEM). An OEM is the company that originally designed and manufactured a specific product. As the company grows, the manufacturing component of the business may take a secondary role to the marketing or research and development. With a greater emphasis on the core areas of the business, a company may recognize that a contract manufacturer can build the product for less cost than it would be to manufacture it in-house.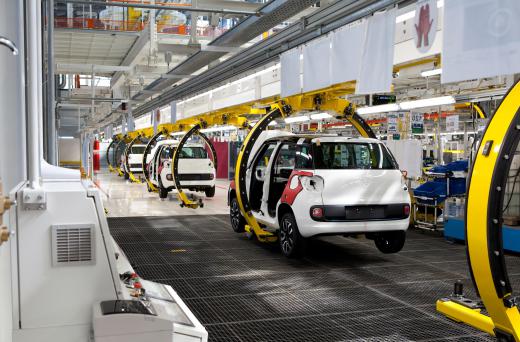 Contract manufacturing services in the electronics industry are widespread and range from printed circuit board design to end of life management. An OEM can opt to outsource only the specific product manufacturing or employ the additional services of various subcontractors to help in the distribution or logistics of getting the product to the end consumer. Regardless of what types of contract manufacturing services the OEM chooses to use, the design and ownership of the product still resides with the OEM and not the subcontractor.
Pharmaceutical manufacturing services is another area of contract manufacturing. The most common practice in this industry is to have the actual drug manufacturing provided by a subcontractor while the research and development is solely with the original pharmaceutical corporation. Other contract manufacturing services in the pharmaceutical industry include warehousing, distribution, packaging, and quality control audits.
Medical contract manufacturing is a combination of electronic and pharmaceutical contract manufacturing. The products being manufactured are medical devices that may include electronics. Some medical contract manufacturing involves providing dispensers for medicine such as an electronic insulin pump. When a company subcontracts out the medical device, it may also require the subcontractor to coordinate with other pharmaceutical contract manufacturers to provide complete distribution of both the device and the pharmaceuticals to the end customer.
For companies new to outsourcing, contract manufacturing agencies are helpful in finding the right subcontractor to work with. The agency will meet with the company to understand what level of outsourcing it needs and the types of services required. The agency will then research, interview, and narrow the list of possible subcontractors who can meet the company's demands. The company can then simply choose from the list of candidates.
AS FEATURED ON:
AS FEATURED ON:







By: artstudio_pro

Contract manufacturers might make parts for larger products or help package products.

By: corepics

Contract manufacturing involves the outsourcing of some or all of a company's manufacturing processes.

By: Gennadiy Poznyakov

Pharmaceutical manufacturing services is one area of contract manufacturing.

By: onizu3d

Drugs are often manufactured by a subcontractor.