What are the Different Types of Commercial Flooring?
Commercial flooring is heavy duty floor covering that is used in industrial and corporate environments. It comes in a variety of materials and is usually designed to offer some combination of durability, cost-efficiency, practical maintainability, and visual appeal. Common types of commercial flooring include laminates and vinyl, man-made stone like ceramic tiling, concrete, rubber, and carpet. Before making a selection, the demands that will most likely be placed upon it should be considered.
Laminate and vinyl flooring, such as vinyl composition tile (VCT) and linoleum, are some of the most popular types of commercial flooring. They are durable, stain resistant, and low-maintenance. They are also cost effective and attractive, making them popular in the retail sector. They come in an expansive array of colors and patterns and can be designed to replicate the look of tile or hardwood at an affordable cost.
Man-made stone flooring is a stylish commercial flooring option with remarkable longevity. It's initially more expensive than other options, but it has long-term cost effectiveness. One of the easiest types of flooring to keep clean, glazed ceramic tile, called quarry tile, is used prolifically in food service areas. Unglazed ceramic tile, terrazzo, and Mexican Saltillo tiles are also common choices.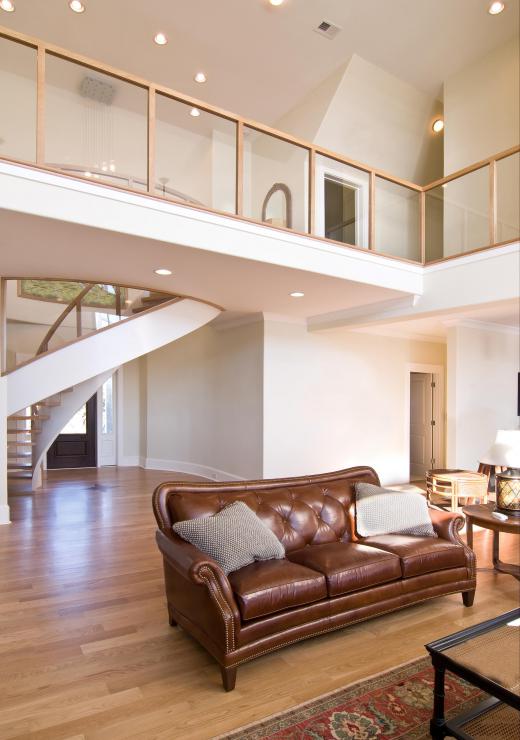 Concrete is used globally for construction and is incredibly durable and affordable. It is frequently covered with another material like vinyl or carpet, although the edgy, industrial look of bare concrete is gaining popularity in retail stores and other venues. Valued for its strength, concrete can be stained or etched for added style.
Rubber is generally chosen for industrial, exercise, and sporting facilities, along with hospitals and schools. It's naturally hygienic, easy to clean, waterproof, and stain-resistant. It also provides natural cushioning and insulation, and its resilience makes it a good commercial flooring option for heavy impact or high traffic areas.
While carpet is considered luxurious, it's easily stained or ruined by moisture and is difficult to maintain. It is most often selected in offices, hotels, or areas that need sound insulation. Carpet tiles can be a practical alternative, since they provide the indulgence of carpet but allow for spot specific replacement if damaged.
As the emphasis on sustainability continues to grow, more "green" buildings are being constructed. Materials like cork, bamboo, and natural linoleum are appearing more frequently as commercial flooring options because of their renewability and recyclability. In addition to having positive effects on the environment, they are also said to create safer work environments.
AS FEATURED ON:
AS FEATURED ON:







By: eugenesergeev

Bamboo is gaining popularity as a type of commercial flooring.

By: Wollwerth Imagery

Some homeowners choose engineered hardwood flooring over solid hardwoods because it is more resistant to changes in temperature and moisture.

By: Mitarart

Laminate floors require little maintenance aside from cleaning.

By: Popova Olga

Linoleum is a durable flooring option.

By: Lilyana Vynogradova

A concrete floor is both durable and affordable.