What are the Different Types of Climate Control Systems?
Climate control systems are used to provide heating and cooling in residential and commercial buildings. These systems are part of the building's heating, ventilation, and air conditioning (HVAC) system, and are typically installed and maintained by specialty contractors. There are a number of different types of climate control systems that may be used, depending on the size and function of the building, as well as the needs of occupants or residents.
HVAC systems are used to improve building comfort, increase productivity, and to preserve building components over time. Effective climate control systems not only improve the well-being of occupants, but also help to keep moisture and humidity levels in check. While excess cold or heat can lead to burst pipes or warped furnishings, unchecked moisture and humidity can cause mold or rot.
Maintaining proper temperatures and conditions within the building requires specialized equipment and maintenance. In larger structures, central heating and cooling systems use a series of ductwork to transfer air throughout the building. The air is cooled or heated in a furnace or air handling unit, then distributed to each room through vents or grills. In smaller buildings, individual heating and cooling units may be used. These systems may consist of simple space heaters or through-wall air conditioning systems.
Effective climate control systems must also address ventilation requirements. Inadequately ventilated buildings will have poor air quality and may even suffer from condensation and other moisture issues. In both large and small buildings, ventilation can be natural or mechanical. Natural ventilation systems include air intake louvers, operable windows, and loosely constructed building components. While these systems are affordable to operate, they tend to result in poor energy efficiency levels overall.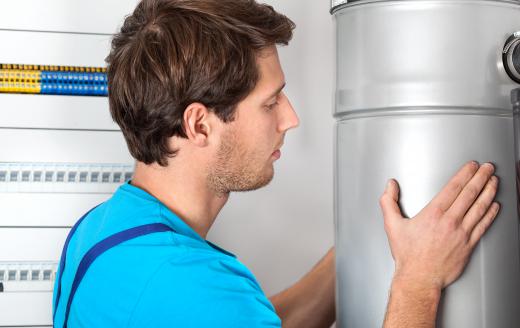 Mechanical ventilation systems are tied into HVAC equipment and duct networks. Fresh air is brought into the building using intake fans or louvers, and is passed through heating and cooling units. From there it travels through the ducts into each room. A separate set of ducts removes stale exhaust air from each room and transports it back out of the building.
Most climate control systems in larger buildings are monitored using performance management software. These performance monitoring systems allow operators to control heating and cooling levels using a computer program. Ventilation and humidity levels can be adjusted, and air quality is automatically monitored for carbon dioxide levels and other contaminants. Building performance monitoring helps the building owner to balance energy efficiency, comfort, air quality and maintenance in one simple system.
AS FEATURED ON:
AS FEATURED ON:







By: Lusoimages

A halogen space heater.

By: mertcan

Climate control systems are part of the building's heating, ventilation, and air conditioning (HVAC) system, and are typically installed and maintained by specialty contractors.

By: Photographee.eu

Some central heating systems use boilers to heat water or air that is then used for warming a home or building.

By: Mushy

Unchecked moisture or humidity may lead to mold growth.