What Are the Different Types of Chisel Handles?
There are many types of chisel handles, with each one designed for a particular use or specialization. The vast majority of chisel handles are made of wood or plastic, however, the incorporation of metal into the handle design determines the individual use of the chisel and, therefore, the handle. Some chisel handles are intended to be used with only the user's hands driving the chisel into the working medium while others are made for use with a hammer or mallet. As a rule, the rounded handles are more prone to work by hand while the flat- or blunt-ended handles are intended to be driven into the work with a mallet.
A sharp chisel is not complete without the proper handle. The handle design is responsible for creating a tool that can be comfortably used by a craftsman for extended periods without creating blisters, sore spots and fatigue. The rounded wooden handles allow a craftsman to sand and form the handle to fit his hand comfortably and provide a good tool with which to work. The plastic handles found on many of the modern chisel designs, while smooth and strong, lack the comfort that some artisans find in the various wood chisel handles.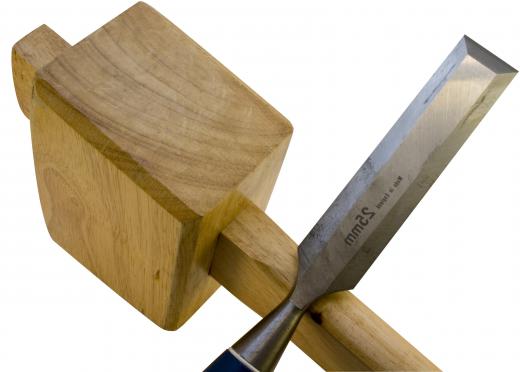 Hand-operated chisels commonly utilize a short round handle that fits the user's palm. Some of the larger chisels used for roughing in a work require two hands, so they incorporate long, slender handles at the end of the chisel. Chisel handles intended to work with a hammer or mallet commonly use a hardened plastic handle or a wooden handle with a metal band around the blunt end. The metal band prevents the wood from mushrooming out or splitting when the chisel is struck with the mallet. Even these reinforced chisel handles are not designed to withstand repeated blows with a hard-faced hammer, such as a claw- or ball peen-style hammer.
Another defining trait in chisel handles is that while a hand-powered chisel uses a tang inserted into the handle, the mallet-powered chisel commonly uses a handle surrounding an extended tang that reaches completely through the handle. These chisel handles allow the mallet to actually strike the steel from the chisel instead of the handle. The extended tang is usually topped with a flat steel cap intended to distribute the force of the mallet blow to the entire chisel. Occasionally, these chisel handles will have the chisel tang extend out past the handle to aid in the avoidance of the craftsman striking his hand with the mallet.
AS FEATURED ON:
AS FEATURED ON:







By: Christopher Dodge

Chisel handles are wood or plastic and are made to be struck with a mallet or pushed by hand or both.

By: roblan

Chisel handles should be made in a way where they can used by a craftsman for extended periods without creating blisters.