What are Scrap Precious Metals?
Scrap precious metals are typically defined as gold, silver, palladium, and platinum which are sold for the value of their weight. The price of scrap precious metals is determined by the metal's purity and current market price. Any piece of a precious metal can be deemed scrap by its owner, but usually only items which are no longer useful for their original purpose are sold as scrap.
Unwanted or broken jewelry, pieces of silver flatware or place settings, gold dental fillings, and coins can all be sold for their weight. Typically, something that is new or still useful is not sold as scrap. The value of a new diamond and platinum necklace would far outweigh the value of the scrap platinum, so it would probably not be sold as scrap. A silver lid from a misplaced sugar bowl, on the other hand, isn't useful on its own, so it would be a good candidate for scrap metal. Virtually anything made of gold, silver, palladium or platinum can be scrap metal.
The price of scrap precious metals is determined by the daily market rate, which fluctuates regularly. The market price is determined per troy ounce, which is 20 penny weight (31.1 grams). The purity, or percentage of pure precious metal in the item, also effects the price. Pure precious metals are typically too soft for everyday use, so other metals, like nickel or copper, are added to make them harder. In gold, the purest form is 24 karat, which is nearly 100% gold. It commands a higher price than 10 karat gold, which is only 43.5% pure gold.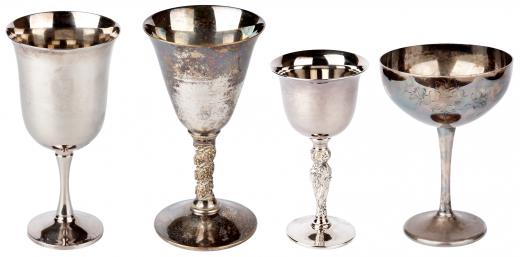 Resellers, like pawn shops and some jewelry stores, often buy scrap gold. Typically, resellers do not reuse the scrap gold themselves, but sell it to a refinery for a profit. Not all resellers pay the same amount of money per penny weight of scrap precious metal. Each reseller determines its price based on the market value and desired profit margin. Unless a refinery is local, the dealer will have to ship the metal to a refinery. It takes several days or weeks for the seller to receive payment.
Refineries sort precious metals by type and then liquefy them. Molten metal is mixed with borax or soda ash to absorb the impurities. The metal is tested for purity, and then hardened in a form. Refiners sell precious metals to a variety of buyers, including dentists, jewelers, investors, hospitals and laboratories.
AS FEATURED ON:
AS FEATURED ON:







Pair of gold rings.

Silver cups, a type of scrap precious metal.

By: Andy Dean

Selling scrap precious metal to a pawn shop is a way to raise cash quickly.