What Are Scaffolding Planks?
Scaffolding planks are long wood boards that are laid across the sections of scaffolding to provide workers with a place to stand and to work from. Unlike a purpose-built scaffold work plank, the scaffolding planks do not hook over the scaffolding framework. Initially, the scaffolding planks are carried up the scaffolding sections by workers and are placed upon the sections of scaffolding to provide a place for workers to stand while assembling the scaffolding tower. Often, the planks are simply raised section by section while erecting the scaffolding instead of placing planks on every section of the scaffolding tower.
The use of wooden scaffolding planks is common for two reasons: the planks are strong and they stack easily when in transport. The main reason many scaffolding rental agents use the wood scaffolding planks is that they are significantly less expensive than an aluminum purpose-built scaffold work platform. Some workers prefer the use of the planks since the aluminum platforms are often slick and tend to slide on the steel tubing of the scaffold sections. The wooden planks also soak up moisture, while the aluminum versions often pool the rainwater, creating a dangerous slipping condition.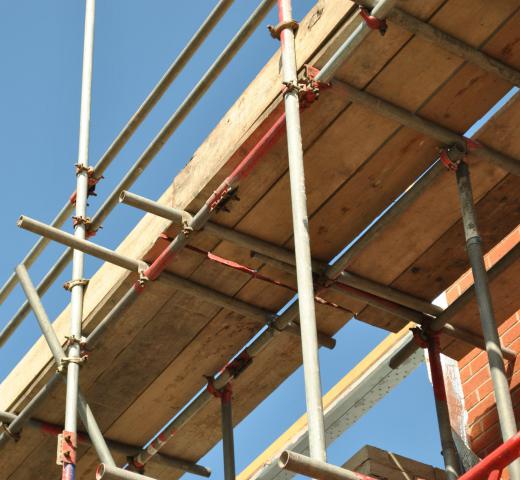 Occasionally, the wood planks are doubled to give more support to heavy work materials such as brick and mortar. The overhanging ends of the planks also provide a place to set materials and supplies whereas the aluminum platforms stop directly at the edge of the scaffold. Another reason that some workers often prefer the use of the planks over that of the aluminum platform is the tendency of the platform to stick to the scaffold. The platforms will sometimes become stuck if the scaffold has twisted or shifted in the least, requiring the platforms to be pried and pounded out of position at breakdown time, whereas the planks simply lift off of the sections.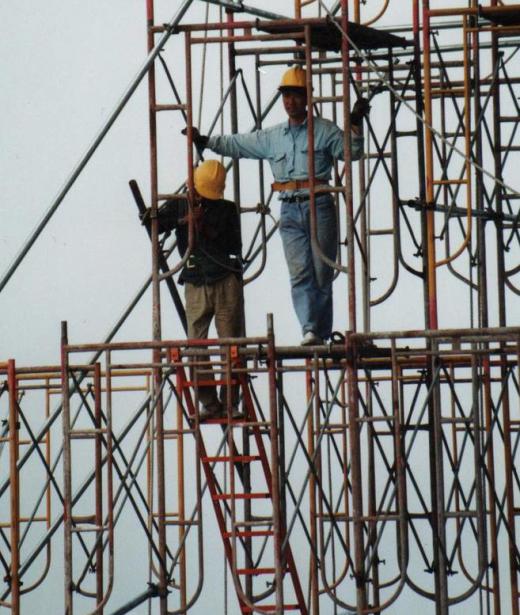 The use of scaffolding planks not only saves time, but also saves money and typically offers the same safety as the purpose-built platforms. The scaffolding planks are also easy to rearrange while erecting the scaffolding, providing better or enhanced footing while straining to raise the scaffolding sections in place. In some situations, workers will actually equip the working section of a scaffold with both an aluminum platform and scaffolding planks. The job materials are often kept on the aluminum platform since it has sides which prevent the materials from accidentally falling off of the scaffold while the workers perform jobs from the scaffolding planks.
AS FEATURED ON:
AS FEATURED ON:







By: andrewprosser

Scaffolding planks help keep workers stable and safe in high places.

By: ozz13x

Scaffolding workers must not be fearful of heights.

By: Halfpoint

Numerous accidents can occur if the scaffolding structure is not completely stabilized.