What Are Sandblasting Stencils?
Sandblasting stencils are thick vinyl or rubber stencils used for making designs on wood, concrete and glass while sandblasting. The sandblasting stencils are typically a peel-and-stick design that allows the stencils to adhere to almost any surface and be easily removed when the sandblasting is complete. There are two specific types of sandblasting stencils: positive and negative stencils.
A positive stencil is applied to a surface to protect the area from the effects of sandblasting. A negative stencil is used to protect the surrounding area from the sandblasting while the design is etched into the surface. Kits containing both types of stencils are often available in home supply stores and sandblasting equipment and supply stores.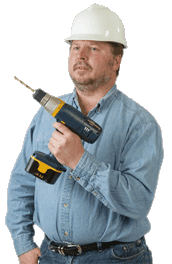 Sandblasting is a method of removing the finish from a surface by shooting fine sand or other media out of a high-powered air hose nozzle. Occasionally, sandblasting stencils are used to etch specific designs or letters into the surface of an object in order to personalize and decorate it. Available from several manufacturers, the sandblasting stencils can be placed onto a surface that is intended to be sandblasted by peeling a protective film cover from the adhesive covered stencil backing. With the stencil in place, the sandblasting can be completed and, depending on the type of stencil used, the image of the stencil is left on the surface of the object in either a positive or negative image.
Typical uses for the sandblasting stencils are etching addresses onto concrete, marble or stone buildings or fences, as well as placing images or numbers on walkways, driveways and glass windows. The effects of sandblasting glass often leave a frosted appearance. By using the sandblasting stencils, writing, artful images or decorations can be placed upon the glass to highlight a business or home. Some vehicles are fitted with the stencils to add a touch of customization to the windows and front and rear glass of the vehicle through sandblasting. When sandblasting wooden surfaces, the softer wood is commonly removed, leaving only the stronger fibers and creating a unique appearance.
The use of sandblasting stencils on ordinary stone can create garden art, pet grave stones and personalized patios. The typical peel-and-stick vinyl sandblasting stencils are one-time-use-only products, while heavy rubber versions of the stencils can often be used repeatedly. Before using a sandblaster on any project, it is wise for users to test the air pressure on a similar object to ensure no damage will be done to the surface of the object or to the stencils.
AS FEATURED ON:
AS FEATURED ON:







Man with a drill