What are Methane Emissions?
Methane emissions refer to the portions of methane that are released into the atmosphere. Methane is the principal component of natural gas. It is useful in many ways, but it can also be harmful to the environment. For this reason, methane emissions are a concern to many people.
Methane can be carried to the stratosphere by rising air. Once it is in the atmosphere, methane is generally regarded as a potent greenhouse gas. It has this reputation because methane can trap substantial amounts of heat, which can result in global warming.
There are many natural sources of methane, including the oceans, permafrost, and termites. Even the Earth's crust contains large amounts. Since methane is naturally occurring, a certain amount of methane emissions are natural and expected. It is believed that the environment has a natural system that can cope reasonably well with these natural releases.
Part of that system is believed to be the natural variance of methane emissions. Although methane exists around the globe, the amount that is released into the atmosphere varies from place to place. It is believed that this is due to a variety of factors such as temperature and moisture.
Anthropogenic, or human-related sources, of methane and the resulting emissions are a growing concern. It is suspected that humans are producing more methane than the environment is naturally equipped to handle. Anthropogenic sources include fossil fuel production, coal mining, and wastewater treatment. Efforts to encourage lifestyle change could reduce methane emissions from these sources.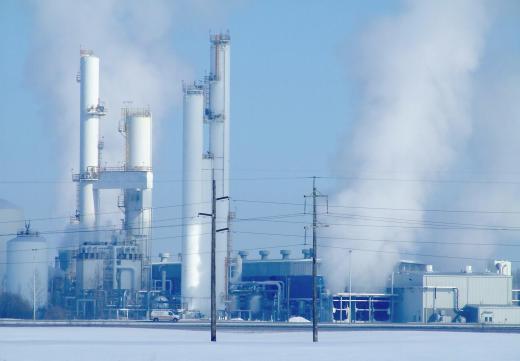 Many of the human-related sources seem to be the result of a growing population and cannot be modified so easily. For example, increasing methane emissions from rice cultivation and livestock fermentation are connected to the fact that there are more people who need to eat. Rice is a staple food in many countries and efforts to change this would be very difficult.
Since methane is regarded as an asphyxiant, people have another reason to be concerned. A significant portion of the methane emissions in certain countries are the result of landfills. Methane has the ability to penetrate buildings that are situated on landfills or near other sources. When this happens, people are put at risk of being exposed to excessive levels of the gas. Since the population is increasing and more land is required to accommodate people, safety in this regard is a growing issue.
There are measures in place to reduce methane emissions. Efforts are often made to transfer the gas to consumers, who can use it to heat their homes. Electricity is also produced from some of the methane that results from coal mining.
AS FEATURED ON:
AS FEATURED ON:







By: Ingo Bartussek

Natural gas is comprised primarily of methane.

By: designua

Methane emissions can reach into the stratosphere.

By: dotspics

Some industrial processes generate methane emissions.