What are Hog Ring Pliers?
Hog ring pliers are a specialized type of tool designed to fasten hog rings. Utilized in various applications, from sausage casings to chain link fencing, a hog ring is similar in function and appearance to a staple. Hog ring pliers may be manual or pneumatic, and also come in automatic feed varieties. Manual hog ring pliers resemble regular pliers, though they are specifically designed to clamp a hog ring tight, while the automatic feed version contains a number of hog rings within the unit. These are similar in design to staplers, and the hog rings are automatically fed via a spring mechanism, with a new ring sliding into place each time one is clamped.
While hog rings may be clamped with regular pliers, hog ring pliers have specialized grooves that allow them to do the job better and faster. A hog ring may slip out of regular pliers while clamping, and may not fasten them as tightly. This can be fine for emergency situations like repairing a chain link fence when the correct tool isn't available, but in most cases it is better to have the correct tool for the job.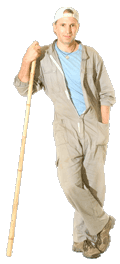 Since hog rings may be used in a variety of applications across many different industries, there have a number different designs. In the packing of sausage, hog rings may be manually clamped to seal the casing. In an application like this the pliers may have an automatic feed and be designed to be operated by a single hand, allowing the packer to handle the sausage itself with the other hand.
Industries that utilize larger hog rings may make use of heavy-duty two-hand units, or even pneumatic pliers. Typically used for the biggest jobs and sometimes referred to as a hog ring gun, pneumatic pliers are heavy, often expensive, and can clamp very large hog rings without the operator exerting much force. They also usually contain many more hog rings than other automatic feed type pliers.
Hog ring pliers also come in a variety of different configurations, depending on the job that needs to be done. Straight hog ring pliers may be useful when the job is right out in the open, but applications such as upholstery manufacture and repair can present a problem. For situations like these, pliers with various different head configurations can make the job easier. To that end, pliers that hold a hog ring at a 90-degree angle from the handle, or in other various configurations, can be found.
AS FEATURED ON:
AS FEATURED ON:







Worker