How do I Choose the Best Commercial Backpack Vacuum?
Choosing the best commercial backpack vacuum depends on several factors, some of which may be unique to the type of situation you have. For example, those who have a small area to clean may be able to get by with a little less power, thus saving some money. In other cases, this type of vacuum may be used extensively, requiring not only more power, but many different types of cleaning tools and even a longer cord.
The convenience of backpack vacuums is clearly evident. The vacuum cleaner is extremely portable, able to go wherever the individual operating it goes. There is no awkward canister to drag behind the user, which makes cleaning areas with many corners or steps substantially easier than traditional canister models. Further, maneuvering the head of the vacuum cleaner is much easier than with models where the canister is on the upright portion of the cleaner.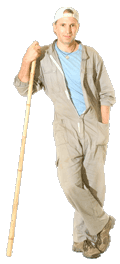 While these conveniences mean this type of vacuum has found a following, especially in large-scale operations, there are still different commercial backpack vacuum models that may work best for an individual situation. As far as price goes, these vacuums tend to be more expensive than other types of vacuum cleaners. However, the commercial backpack vacuum can pay for itself through increased efficiency.
The first thing to consider is power. Most commercial backpack vacuum units have at least 900 watts of power. Some of the more powerful models may have as many as 1,400 watts or more. For those who are doing a lot of heavy duty cleaning, or who have a lot of area to cover, the capacity of a machine with higher wattage may be a big selling point.
Another thing to consider is the type of cleaning tools offered. Less expensive models may not have as many options as more expensive options, or at least may charge additional for extra tools. For those who clean areas with many unusual features, or feel they may need additional tools, it may be best to buy a complete package up front.
The lengths of the hose and cords are another consideration when looking for the best commercial backpack vacuum. This is generally one of the secondary considerations, however. Cords can always be lengthened with an extension cord, if needed, though this does take away some of the convenience. The best bet is to look for a model with at least a 50-foot (15.25 meters), which is nearly standard throughout the industry. A hose length of at least 54 inches (137 cm).
Most commercial backpack vacuum models also come with one or two types of filters. These are especially important and should always be used for the safety and comfort of the user. Making sure these are easy to acquire when they need to be replaced is another consideration.
AS FEATURED ON:
AS FEATURED ON:







Worker