How Do I Choose the Best CNC Auto Lathe?
Computer numerical control (CNC) auto lathes are used in every type of machine tooling industry and environment. While CNC auto lathe units are versatile and are able to work on many materials, each unit is different and these differences have to be taken into account before choosing a CNC lathe to purchase. The major differences between the lathes are the overall size of the lathe, the minimum and maximum working sizes, what materials can be used, and rotational speed.
The overall size of the CNC auto lathe is one of the easier factors to discern. If the lathe is too large, it cannot be used because there will be no room for it. If the lathe is small, there may be a chance that it cannot work on larger pieces of metal. The size of the CNC auto lathe will be stated on the lathe's packaging or website.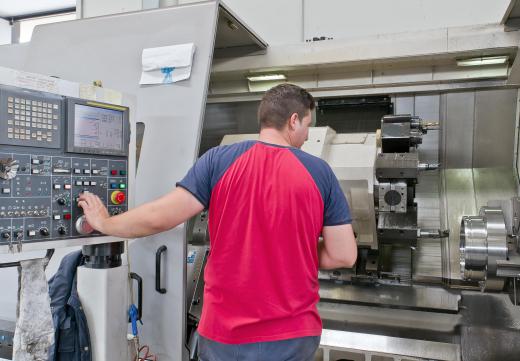 The working size of the CNC auto lathe is different from the overall size. The overall size is the size of the machine, while the working size is how big or small the material needs to be if it is to be worked on. Most CNC lathes are able to work on very small pieces of metal or make very small cuts, such as a fraction of a millimeter — which will satisfy most operators — or they can work on very large pieces of metal and make large cuts. If the part being made has an odd sizing, be it very large or very small, then a specialized CNC lathe may be needed.
Most CNC auto lathe units are made to work on metal, and this is what most people are looking for when they get a CNC lathe. Each metal is different in terms of how hard it is and its nature when being cut. This means some CNC lathes may only be effective on certain metals, such as iron or brass. Check the lathe specifications to see what metals can be worked on. Along with the material, some machines may only be able to work on a certain metal of a specific size that may be larger than the regular minimum cutting size.
Rotational speed is another aspect of choosing a CNC auto lathe. The higher the rotations per minute (RPM), the faster the lathe will be able to rotate. Depending on the industry purchasing the lathe, a higher speed may be good or detrimental. Higher lathe speeds can make parts quicker but may move too quickly for intricate parts.
AS FEATURED ON:
AS FEATURED ON:







By: Giovanni Burlini

Industrial CNC lathes used in factory settings are much more expensive than hobby models.