A baling press is a device used to compress materials into a larger bale that is convenient for transport or storage. This device usually uses one or more hydraulic arms that will press materials in toward each other, creating a square bale that can then be removed from the machine and stacked. Two general types of baling press models exist: a vertical press and a horizontal press. The vertical press will feature a hydraulic arm that operates on a vertical plane, while a horizontal press features an arm that actuates on a horizontal plane.
In either case, materials are loaded into a hopper or container, and when that container is full, the arm can be actuated to compress the materials. Various types of materials can be compressed in a baling press, though some models are specifically designed for one material only. A tire baling press, for example, is meant for compression of rubber tires; it may not be suitable for compressing other materials. Tire presses may be horizontal or vertical, and the bales created by such a press usually need to be secured with baling wire to prevent the tires from expanding once the hydraulic arm retracts.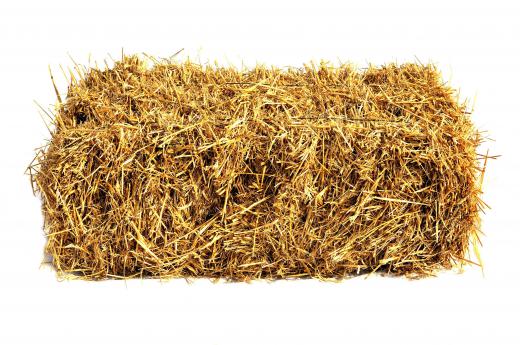 Various industries will commonly use a baling press. Farms, for example, may use the press to create hay bales that can be stacked or stored in a hay loft in a barn. Once the bales are created, they must be moved using a forklift or other piece of heavy machinery that is fitted with a bale spear; bales can also be transported by hand, though they can get quite heavy. The recycling industry is also a common setting for a baling press. Materials such as rubber, plastic, and metal can be baled for transport, storage, for preparation for the next phase in a recycling process. Waste services will similarly use baling presses for similar reasons.
The size of the baling press will generally dictate how large of a bale can be produced. Many manufacturers will specify how much material can be loaded into the baler safely to create a bale of a certain size. Exceeding this limitation can risk damage to the machine. Smaller machines may not be able to produce bales as large as bigger machines, but they may be able to work more quickly, allowing a user to create more bales within a certain time frame. The baler may also be portable, allowing a user to transport the device from one location to another, thereby adding to the convenience and efficiency of the process.
AS FEATURED ON:
AS FEATURED ON:







By: Stefano Neri

A bale of hay produced from a hay baler.

By: gavran333

A waster baler can create a secure bundle for transporting the waste to a facility where it can be repurposed or recycled.