What is the Difference Between Asphalt and Concrete?
Asphalt and concrete are two construction materials which are commonly used around the world. The primary difference between the two is that asphalt is made by mixing aggregate with bitumen, a sticky black hydrocarbon which is extracted from natural deposits or crude oil. Concrete is made by mixing an aggregate material with a cement binder and then allowing the mixture to harden, forming a rock-like substance. Asphalt and concrete are used for different construction tasks, ranging from roofing to sidewalks.
If you want to get really technical, asphalt is actually a form of concrete, since "concrete" really means any mixture of an aggregate and a binder which solidifies after curing. This is why you may have heard engineers refer to "asphalt concrete," meaning "a type of concrete made with bitumen as a binder." However, most lay people use "concrete" to refer specifically to a mixture of aggregate with a binding cement, and for the purpose of this article, we will use this difference to distinguish between asphalt and concrete.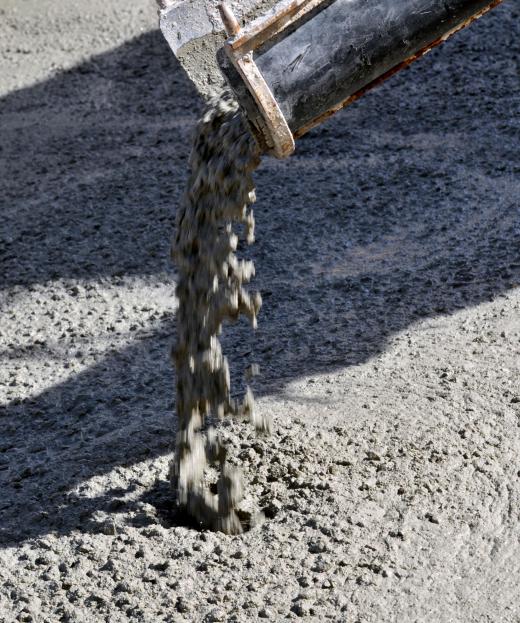 When asphalt is made, a company mixes bitumen with rocks or other aggregate material which is ground to roughly the same size. The resulting composite material is black to brown in color and very sticky because of the bitumen. Once the asphalt has been mixed, it can be rolled out onto roadways and compressed with the use of a steam roller, or used to coat roofing shingles and other construction materials. Once the asphalt sets, it is a smooth, solid, water-resistant covering. Asphalt is classically used to make blacktop, the material used to cover playgrounds and many roads.
To make concrete, aggregate materials are mixed with a cement binder. Cements include minerals like limestone and gypsum which will harden into a solid when mixed with water and allowed to cure. Concrete can vary in texture, appearance, and use depending on the type of aggregate used; the most common choice of cement is Portland cement, a binder which has been used for hundreds of years. Concrete can be poured into molds for a wide range of purposes; many older roads are paved with concrete, although asphalt is the preferred material for modern road surfaces.
An easy way to remember the different between asphalt and concrete is that asphalt is usually black to brown in color, and it can have a distinctive texture and odor from the bitumen, especially on hot days, while concrete is grayish in color and looks more like rock. If you are a fan of splitting hairs and the topic of asphalt and concrete comes up, feel free to inform people that asphalt actually is concrete.
AS FEATURED ON:
AS FEATURED ON:







By: uwimages

Wet concrete being poured.

By: Lilyana Vynogradova

A man smoothing out a concrete floor.

By: Gerhard Seybert

Many parking lots are paved with asphalt.

By: forelle66

Asphalt is actually a type on concrete.

By: Michael Shake

Asphalt can be used to coat roofing shingles.

By: Brilt

The semi-solid form of asphalt is favored for paving roads.