What Is Concrete Formwork?
Walking around any neighborhood or city, an observer is likely to notice that most of the structures are made at least partially from concrete. This building material is generally inexpensive, strong, and easy to form into specific shapes, making it exceptionally versatile. In order to capitalize on this versatility, however, builders need to construct concrete formwork that will help the concrete keep its shape as it dries from its liquid form into a solid form. Concrete formwork may consist of wood or metal panels that are held in place with rods, connecting pins, and other hardware known as falsework.
The falsework is used to keep the panels in place, preserving the shape of the concrete as it sets. Smaller projects, as well as some larger ones, will require the use of plywood concrete formwork; a special type of plywood is used because this type of wood will be resistant to water damage and inexpensive enough to use in large quantities. In some cases, the plywood will be reusable, so carpenters will clean off the panels after they are used. Metal concrete formwork is often used for larger projects that require precision in terms of flat surfaces, as well as on projects that require support for exceptionally large and heavy amounts of concrete.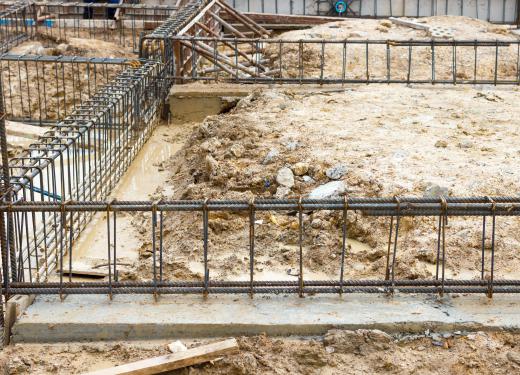 Special carpenters known as formwork carpenters are likely to be hired by a construction company in order to properly construct concrete formwork. These carpenters will read from a blueprint in order to create a structure that will appropriately support the concrete that is to be poured. Once the formwork is in place, the carpenters are likely to monitor the concrete pouring process and make any necessary adjustments. As the concrete sets, the formwork carpenter may monitor the concrete to ensure it is setting properly. Once the concrete as set, the carpenter will be responsible for deconstructing the concrete formwork, cleaning it, transporting it, and storing it properly. In some cases this is not necessary, as some formwork is permanent and will not be removed after the process is complete.
Permanent formwork is often made from galvanized steel, which is a rugged, durable material that is also resistant to water damage. This permanent concrete formwork will help to add strength to the concrete structure and will, in some cases, reduce the need for rebar within the concrete. Rebar is steel bar that is set within the concrete structure to help increase its tensile strength. While rebar will still be necessary if a permanent form is used, less rebar is likely to be required.
AS FEATURED ON:
AS FEATURED ON:







By: wittybear

Steel reinforcing bars, or rebar, are inserted in concrete to help retain its form.

By: artzenter

Plywood is commonly used for formwork.

By: Kadmy

If pouring large slabs, such as garage floors or house foundations, a power trowel may be required to finish it.