What Is an Asphalt Plant?
An asphalt plant is a facility that manufactures hot asphalt paving mixtures. This hot asphalt is then transported to local construction sites, where it is used to pave roads, parking lots, and airport runways. While these facilities have long been considered a threat to the environment because of the pollution they produce, the demand for asphalt paving remains strong throughout the globe.
Asphalt paving is made using a base of loose gravel, or aggregate, which is mixed with finer gravel and sand. The asphalt mixture itself consists of a sticky tar-like substance that is generally derived from petroleum byproducts. An asphalt plant combines the aggregate base materials with the sticky aggregate bitumen serving as a binding agent. By mixing and shipping this product at high temperatures, plants ensure the mixture will remain soft and workable until it has been laid over road beds or other surfaces.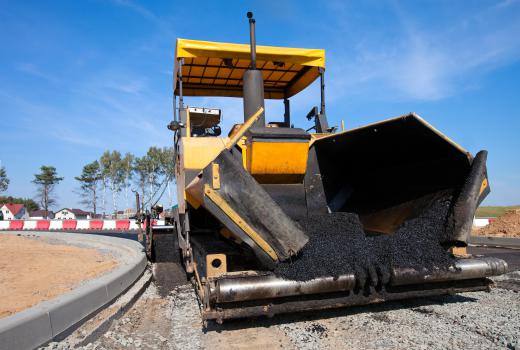 An asphalt plant may take one of two distinct forms, which differ in their production rates and manufacturing techniques. The smaller of the two is a bath heat facility, which produces a single bath of hot asphalt mixture at a time. In this type of asphalt plant, the aggregate and hot asphalt mixture are poured into a mixing drum, then delivered directly onto trucks for delivery to the jobsite. In a continuous asphalt plant, the gravel and asphalt mixture is fed into the mixing drum automatically, then deposited directly into a storage container to make room for the next batch. Continuous asphalt plants continue to produce asphalt, and the hot mixtures are taken from the storage unit as needed.
Historically, an asphalt plant only had the capabilities of utilizing a batch manufacturing technique. This was due to a lack of technology that could be used to keep the asphalt at the correct temperature until it was ready for use. Today, new materials and technologies allow asphalt to be stored at the desired temperature for several days until it is needed. This is accomplished through the use of insulated silos, which may contain built-in heating systems.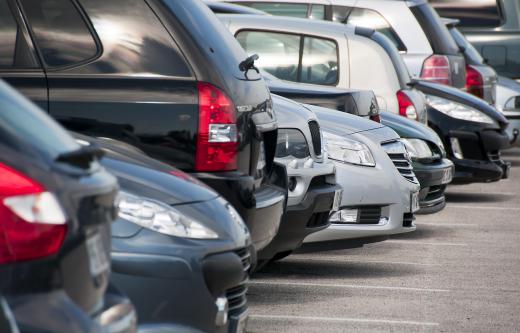 The introduction of a new asphalt plant is often met by protests and complaints from local community members. This is primarily due to the dirt, pollution, and noise traditionally associated with these plants. Today, an asphalt plant is often equipped with advanced technology to minimize noise and pollution. For example, scrubbing systems in smokestacks prevent the release of pollutants into the air. Special baghouses, or dust collectors, eliminate the black, sooty clouds that were often emitted from these plants.
AS FEATURED ON:
AS FEATURED ON:







By: Fotolia RAW

Asphalt plants produce the asphalt used to pave roads.

By: Brilt

Asphalt is made using loose gravel and a sticky tar-like substance.

By: Marc Xavier

Asphalt is used in the construction of parking lots.

By: Nicola_Del_Mutolo

Asphalt, the material used to pave roads, must be hot when distributed on a surface.