What is an Air Conditioning Compressor?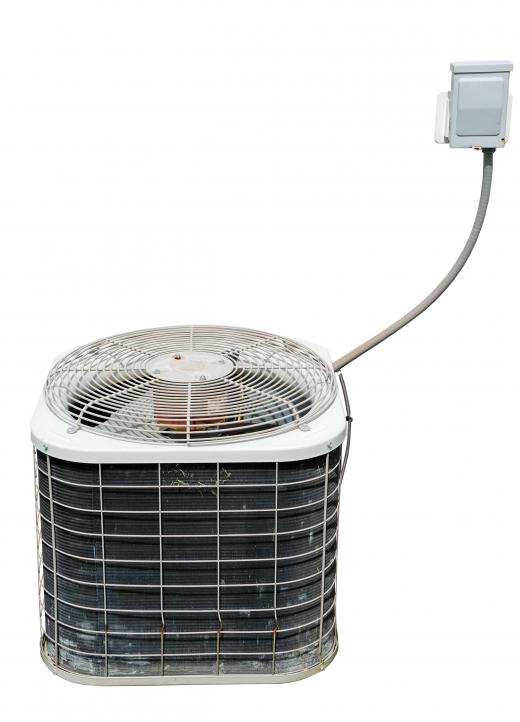 An air conditioning system has several parts that assist in the cooling of air. These parts are the compressor, the condenser, and the evaporator. An air conditioning compressor is the part of the air conditioning system that compresses cool, low pressure gas into a hot, high pressure gas. The compression of this gas is the first part in a multi-step process that helps keep the area cool. Though the compressor is an important part of the air conditioning system, if any one of these parts fail, the unit will fail.
A properly working air conditioner starts with low pressure gas traveling into the air conditioning compressor. The compressor compresses the gas into a high pressure gas with a higher temperature. This is why it is called an air conditioning compressor. At this point, the gas must be cooled down. This is when it travels to the condenser.
In the condenser, the gas is cooled into a liquid still under high pressure. After this, it travels to the evaporator. In the evaporator, the liquid is squeezed through a small hole and into tubing. In this tubing, the liquid uses the heat from the room to be cooled in order to turn back into a gas. The low-pressure, cool gas is then transported back to the air conditioning compressor to start the journey all over again.
The fluid used in an air conditioning compressor is a gas with a low boiling point that easily converts from a liquid to a solid. These fluids are called refrigerants. The refrigerant of choice used to be freon, however, when freon escapes into the atmosphere, it contributes to the deterioration of the ozone layer. As such, more ozone-friendly fluids have come into use. One of these is
Air conditioning compressors are an important, and potentially expensive, part of an air conditioning system. Changing or cleaning the air filter is an easy step that can be taken to extend the life of the compressor. The filter should be the appropriate size and fit properly into the intake vent. It should also be kept as clean as possible. Most filters are made to be replaced once every two months or as needed.


By: carroteater

A central air conditioning unit.