What Is a Wire Rope Pulley?
A wire rope pulley is a system that includes one or more pulley wheels and a wire rope; this system is used to lift or otherwise move heavy objects easily and safely. The pulley wheels are usually made of a high-grade metal such as steel that will withstand the friction of the wire rope moving through the pulley unit under load, and the wheels are mounted on an axle that is in turn mounted into a frame. The wire rope included in the system is often made of woven steel as well, though other metals such as aluminum can be used with a wire rope pulley system as well.
Rope pulleys can feature woven fiber ropes as well, though these are used to lift lighter objects. Wire rope pulley systems are instead designed to lift heavy objects against gravity and sometimes across spans. The thickness of the wire rope as well as the width of the pulleys can vary significantly according to the intended purpose of the system. Heavy objects may require more pulleys, effectively distributing the load over the length of the rope for easier operation of the wire rope pulley system. Extremely heavy objects may require the use of a motorized wire rope pulley system.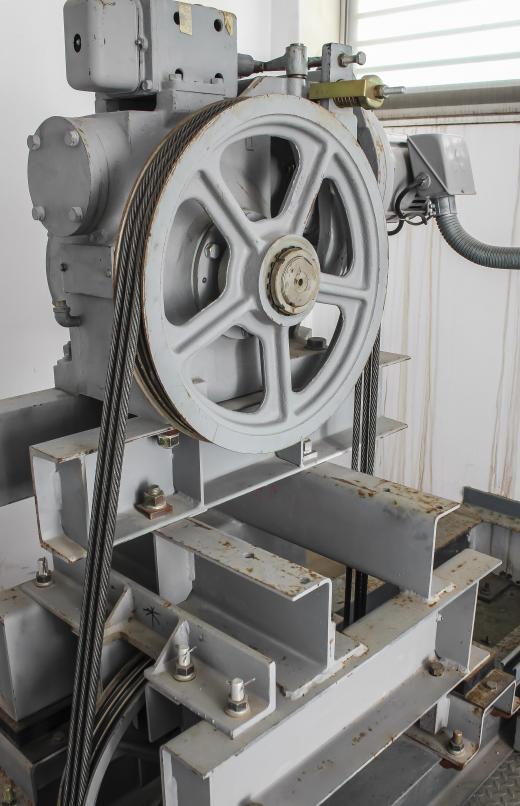 These systems are very often used in industrial settings, since heavy objects are likely to be moved in factories, scrap yards, warehouses, and so on. Sometimes the wire rope pulley system is mounted to an elevated track, and the pulley system itself can move along this track to move objects up off the ground and then across an area. These systems tend to be motorized, since the objects to be moved are likely to be quite heavy.
The pulleys themselves are often grooved around the circumference to allow the wire to sit in the groove during use. This prevents the wire from sliding out of place while the object is being lifted or moved. The pulleys may sit in a frame that is equipped with a hook for raising or lowering the object, or the frame may be designed to connect to a fixed object to provide a pivot point for the rope. Generally speaking, the more pulleys included in the system, the more friction will adversely affect the use of the system; more pulleys will, however, distribute the load of the object more evenly, so a user will need to find the right balance of pulleys for the job.
AS FEATURED ON:
AS FEATURED ON:







By: supakitmod

Pulleys often have a groove around their circumference that guides a chain, cable, belt or rope.