A toggle press is a device used in many metal fabrication shops as a means of bending or indenting flat stock or sheet metal. The toggle press is different from other mechanical presses in that it utilizes a toggle action as the means of exerting force. It uses the movement of specially placed levers to create an amount of force that is much greater than the amount produced by methods such as hammer striking. The toggle press, much like any other metal forming press, has but one objective: to change the shape of the piece that is worked on by the press.
The mechanism inside a toggle press is pretty simple, with the toggle acting as the initiating lever in the mechanical function of the machine. The toggle lever is connected to a secondary toggle through a rivet, which allows the necessary movement between two pieces. The secondary toggle is then connected at its other end to the ram, or piston, of the press, which compresses downward toward the base or press table. This action actually multiplies the force of the toggle lever being pulled substantially, allowing for the work piece to have exponential force exerted upon it.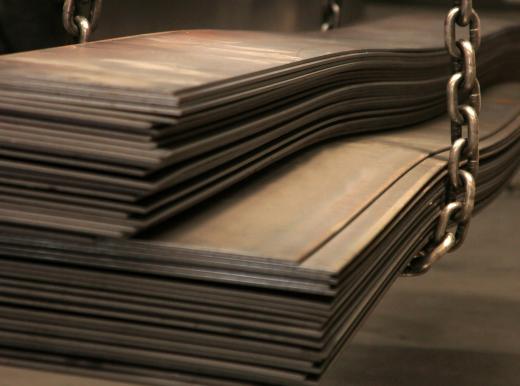 Newer toggle presses used in machine shops or metal fabrication shops actually are powered through the use of compressed air, rather than requiring manual force to operate. These presses are called pneumatic presses, or pneumatic toggle presses. The function of the toggle press remains the same as if it were being operated manually, with the exception of requiring the operator exerting the force.
Instead, compressed air is shot into the initial toggle chamber. This pushes the toggle lever downward in a pressurized action. This downward motion engages the secondary toggle on the end of the initial one, which in turn drives down the piston as would happen in a manual device. The operation in a pneumatic toggle press is quite literally as easy as pushing a button.
With the amount of pressure that can be exerted through the use of either a manual or pneumatic toggle press, a metal sheeting that is too thick to be altered manually can be changed in shape with relative ease. This is the case with almost any machining press. Such technology depends on the use of different simple mechanisms such as levers and pulleys, which are often utilized to perform work in a much easier fashion than can be done manually.
AS FEATURED ON:
AS FEATURED ON:







By: Kybele

Sheet metal can be bent or indented with a toggle press.