A nailset is a hand tool that is used to countersink nails into wood trim or other materials where it is necessary for nails to be invisible. A companion tool to the hammer, a nailset, also sometimes called a nail punch or punch tool, is a simple tool comprised of steel with a tapered shaft and narrow tip. With the narrow tip placed on the head of the nail, the head of the nailset is struck with a hammer and sinks the nail below the face of the wood without damaging the surface. The most common use of a nailset is on wood trim and molding.
When installing wood trim, the nailset allows the nails to be sunk inward away from the surface, leaving a small hole that is filled with wood putty, sanded and then painted or stained. This creates a continuous, smooth surface on the wood trim and allows the nails to disappear completely giving the trim or molding a finished look. A nailset is also used to the same effect on the installation of wood floors. Because there are many uses for a nailset, most carpenter toolbelts have a small, narrow pouch built in near the hammer loop to accommodate the tool.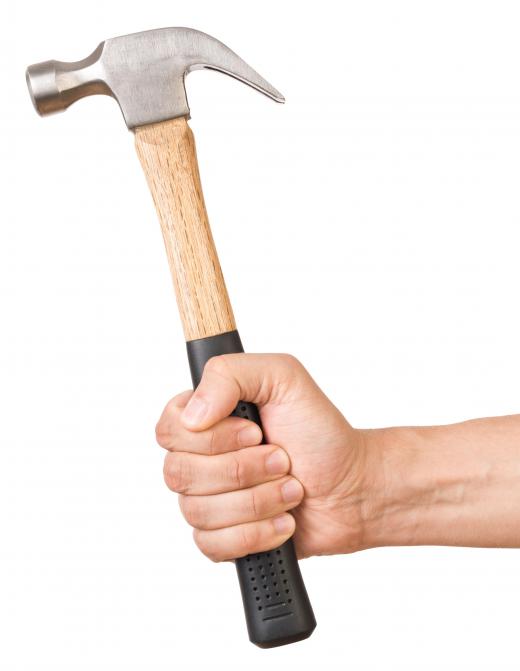 The nailset is available in a small variety of designs ranging from a simple tapered bar with grips in the center to those with specially designed heads that can serve dual purposes in tight spaces. The diameter of nailset tips also vary in size to accommodate different sized nails. They are all carefully engineered and designed to accept repeated blows to the head without breaking, but to also withstand repeated collisions with nails at the tip.
A nailset might range in price from less than $10.00 to $20.00 US Dollars on average. Sometimes they are sold in sets of two or three to accommodate the most frequently used sizes of nails. A nailset may also be built in to other tools commonly used around nails, such as a paint scraper.
AS FEATURED ON:
AS FEATURED ON:







By: donatas1205

A nailset is struck with a hammer to sink a nail below the surface of the wood.