What Are the Best Tips for Formwork Construction?
Pouring concrete for load-bearing structures can be a complicated task, which means formwork construction will be necessary to ensure a strong and stable finished concrete structure. Contractors will often hire a formwork construction professional to ensure the formwork is installed correctly, but for smaller jobs, it is possible to install formwork without the help of a professional. The most important step in the process is choosing the right type and amount of formwork for the job. This assessment can be done by consulting a professional formwork installer or a formwork rental company.
It is also important to ensure enough workers are present during the formwork construction. Formwork panels can be heavy and cumbersome, and it may require more than one person to position each piece into place. For safety reasons, having several workers on site is preferable, if for no other reason than to monitor and respond in the event of an emergency. Safety equipment, such as hard hats, work gloves, and eye protection, should be used whenever possible. A first aid kit should be on site at all times during the formwork construction as well. Before any panels are put in place, it is best to inspect each panel for damage, as this can lead to damage to the structure or injury to workers.
When setting up formwork in a crowded city where bystanders may be passing by, it is important to consider their safety as well. Barriers should be placed well outside of the formwork construction to ensure passersby do not come too close to the construction, thereby exposing them to potential injury. Formwork can fall out of place, and concrete can splatter during the pouring process, which means a safety zone around the construction will need to be established.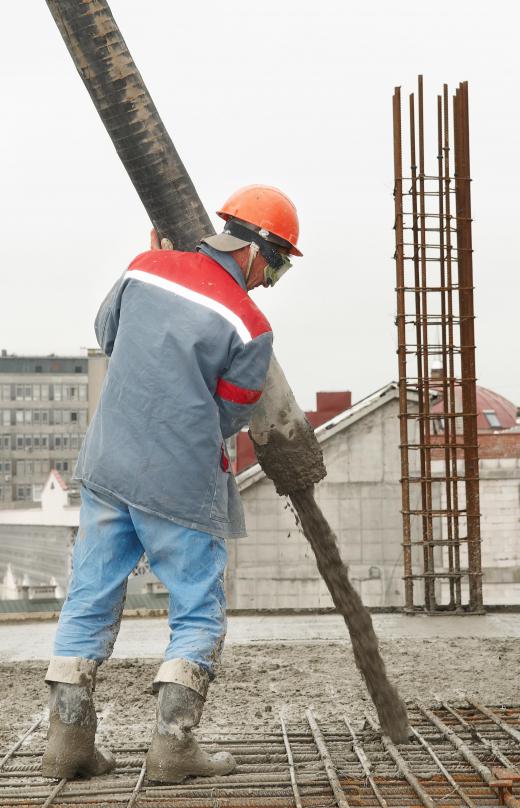 If the builder is renting formwork from a rental company, it is vital that the proper type and amount of formwork is rented and onsite before the project begins. This will ensure quick and proper installation of the forms. Make sure to communicate with the rental company to ensure such arrangements are in place. If a problem arises, the rental company should be able to address it swiftly. Make sure to find out if delivery of the product is included as well, since formwork can be heavy and difficult to transport. If the rental company does not transport the items, it will be necessary to rent trucks and transport the formwork independently.
AS FEATURED ON:
AS FEATURED ON:







By: Aleksandar Kosev

Formwork construction requires proper safety equipment, including gloves and hard hats.

By: Kadmy

Pouring concrete is included in formwork construction.

By: Riccardo Arata

It is important to ensure that enough workers are present during formwork construction.

By: Sam Spiro

Contractors often hire formwork construction professionals to ensure the formwork is installed correctly.