What are Pallet Truck Scales?
Pallet truck scales are weighing devices that workers use to measure the load on standard wooden or plastic pallets. Pallets are common storage shelves that manufacturers often make in a certain standard size and shape to accommodate a forklift or pallet truck.
Pallet trucks are also called pallet jacks or pallet hand trucks. A pallet jack or truck may be able to lift a pallet stacked with goods to a certain height off the ground so that it may be moved. Various styles and models of pallet trucks have other features for handling materials that are stored on a pallet. Among the most common features are pallet truck scales.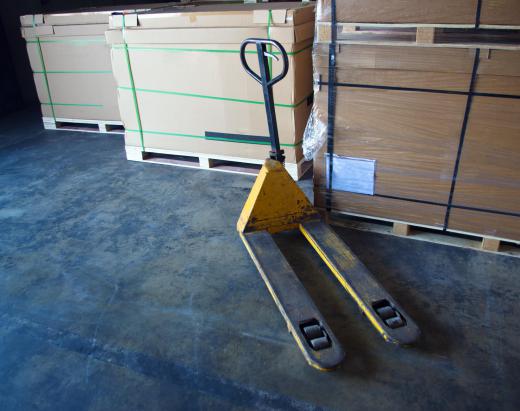 A pallet jack digital scale is often built into a pallet lift or truck design. The scale will effectively weigh the entire set of goods, along with the pallet, while it is loaded onto the pallet truck. This added feature for weighing cargo helps provide more effective solutions in a warehouse or similar space.
Different types of pallet trucks include manual trucks, where pallets are guided on simple manual rollers, or battery-operated trucks with or without lift jacks for raising pallets several feet above the ground. For battery operated pallet trucks, pallet truck scales can often run off of the same battery that powers the vehicle. Some battery operated pallet trucks allow for the 'driver' to ride along with the palletized goods.
In addition to single unit scales mounted on pallet trucks, there are some other options for weighing goods on a pallet. Twin beam scales include two units for weighing each side of a pallet. Twin beam designs are handy for weighing multiple sizes of pallets.
Pallet truck scales commonly weigh all of the various types of materials that workers can load onto a pallet. Goods may be in the form of many small boxed units, shrink wrapped onto a pallet, or one vat, tank or other heavy container secured on a pallet using specialized fasteners. Pallet truck scales use weight distribution engineering to find an accurate weight for the total pallet load.
Scales for a forklift or pallet jack serve several purposes in an industrial area. Workers may use them to verify that a load does not exceed a posted limit for a vehicle, container, shelf, or piece of equipment. Scales may also provide weights of palletized goods for inventory purposes. These tools are handy for any environment where workers need to consistently weigh the items they are moving. Workers may also use these scales to evaluate loads for compliance with workplace safety laws, such as those enforced by the national OSHA (Occupational Safety and Health Administration).
AS FEATURED ON:
AS FEATURED ON:







By: sharplaninac

Some pallet jacks contain a digital scale.

By: Lagui

A pallet jack may be able to life a pallet stacked with goods to a certain height off the ground so that it may be moved.