How Do I Choose the Best Lathe Stand?
If you are attempting to choose the best lathe stand possible, areas of concern typically center on the height, strength and stability of the stand. Objects being tooled in a lathe are commonly heavy, therefore, a sturdy lathe stand is a wise choice. Other areas you may wish to consider when attempting to choose the best lathe stand are construction type and material used in the construction of the stand. While a home-built style of stand can be very sturdy, it is often a steel, manufactured stand that proves to offer the best in support, strength and stability.
Due to the tremendous amount of vibration when running, the lathe stand that is best able to absorb the vibration is often considered the better lathe stand. You might wish to investigate the features of a heavy, cast-iron type of stand when searching for the best lathe stand available. Lightweight, stamped-steel type stands commonly cost less than the heavier, cast-iron-type stand, however, the lightweight stands are often bolted together and tend to loosen during use, resulting in a vibration and stability problem. You may wish to investigate both cast-iron as well as cast-aluminum versions of stands when attempting to secure the best stand for your workshop.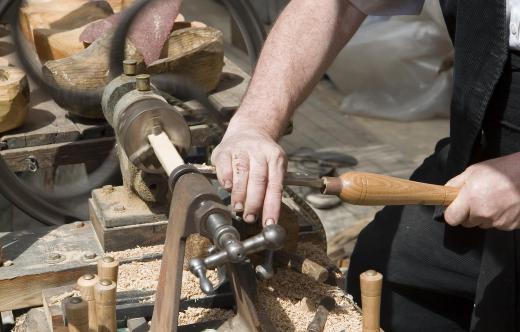 The best stands will allow you to lean over your work when creating a lathe turning. Stands that are too short will result in lower back fatigue when using the lathe, and stands that are too tall will offer less access to all areas of the workpiece. When choosing a stand, you may want to look for the stand that positions your lathe chuck and your lathe turning or workpiece at the elbow height or slightly higher. This will typically result in your best comfort and control when working with your new lathe stand.
Occasionally, the best-fitting stand will be a home-built version that you assemble out of heavy lumber. This type of lathe stand is often less than optimal when it comes to vibration resistance and longevity. If, however, you use heavy lumber and bolt the components together instead of screwing or nailing, the home-built version can be very efficient. Typically, the best selection when it comes to choosing a quality lathe stand will come from a reputable manufacturer and will offer room for tool storage, light attachment and occasionally will provide a location to fasten the stand to the floor through mounting bosses cast or machined into the stand feet.
AS FEATURED ON:
AS FEATURED ON:







By: Lagui

Objects being tooled in a lathe are commonly heavy, therefore, a sturdy lathe stand is a wise choice.