How Do I Choose the Best Chisel Set?
Choosing the right chisel set is a task that requires some attention to the degree of proficiency of the user, cost, and quality of all the chisels included in the set. By determining what type of projects will involve the use of the set and getting some advice from an experienced user, even a beginner can start out with a basic set that will do the job, and allow room to add to the collection over time. Taking time to compare the merits of different sets will also make it easier to ultimately make a selection that will serve you well for an extended period of time.
A good place to begin when considering the purchase of a chisel set is the intended use of the tools. Amateur woodworkers may find that a beginner's chisel set provides all the basics needed for most home projects, and at a cost that is easier on the household budget. For a longtime woodworker who is branching into more complicated projects, the more robust range of tools including in a professional chisel set may be a better option. While costing more, the professional set will include more types of chisels that are designed for use in a wider range of applications.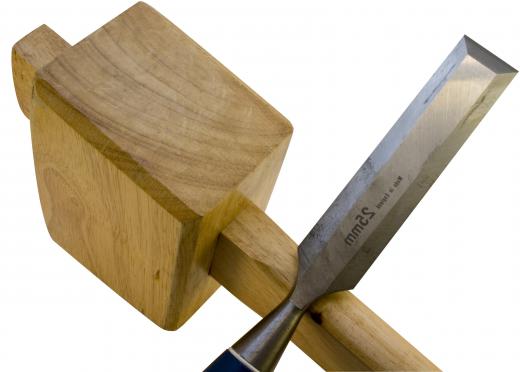 Along with considering the expertise of the user, quality is a must when buying a chisel set. Even with basic sets, the goal is to obtain tools that will hold up to regular use over a number of years. Look closely at the construction of the tools in the set, and make note of the materials used to construct each of the chisels. Keep in mind that hard steel means that the chisels will remain sharper for a longer period of time and will not dull as easily. Avoid any sets that appear to be somewhat flimsy or are likely to not hold up well to a lot of use.
Price is also an important consideration when it comes to buying a chisel set. The goal is to balance quality and the range of chisels included in the set with what you can reasonably afford. While it is possible to purchase sets that are very inexpensive, stay away from those offerings unless you are looking for a set to use once or twice, then banish to the nether regions of the toolbox. If you plan on using the chisels on a fairly regular basis, go with a more expensive hard steel set that will provide reliable service for a number of years, rather than one that would have to be replaced after a couple of years.
AS FEATURED ON:
AS FEATURED ON:







By: Christopher Dodge

When choosing a chisel set, consider cost, the blade sizes, how the wood handles are made and the metal used for the blades: softer steel blades can be sharpened more easily but harder alloys will stay sharper longer.